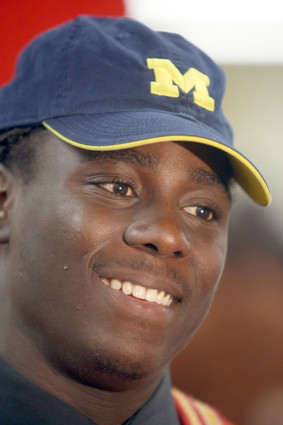 On National Signing Day, dual-threat quarterback Denard Robinson signed on the line to become a Michigan Wolverine. Robinson stands 6-0, 190, and has been clocked in the 40-yard dash at 4.38 seconds. Robinson became the 21st commit in the class of 2009.
Recruiting Notes
Following the decommitments of Kevin Newsome and Shavodrick Beaver, recruiting a second quarterback for the class of 2009 became a priority for the Wolverines. Several prospects became options, including Raymond Cotton, Tajh Boyd, and one Denard Robinson. Robinson immediately got the full-court press from Michigan, who knew they had a tough compeition for Robinson's signature, going mostly against the home-state Florida Gators. Florida and Michigan were the only two of Robinson's offers that offered him the opportunity to be a signal-caller at the next level. Robinson took his official visit to Michigan the January 9th recruiting weekend, along with his teammate, corner Adrian Witty. Within a couple weeks, he knew that he wanted to play in the Rich Rodriguez spread offense, but held off on announcing a decision until Signing Day. At his 11AM press conference at his high school, Robinson gave a fake-out by showing up in a Florida Gators hat. However, when he announced his actual intentions, he picked the Michigan Wolverines.
Player Notes
Robinson is a definite dual-threat quarterback, and has speed and moves that Wolverine fans haven't seen from the quarterback position in ages. He is not only accomplished as a runner, but he can really throw the ball, as well. Robinson has a strong arm, and with some coaching at the next level, could become a very good passer. He has been compared to Rich's former WVU quarterback, Pat White. The one major knock on Denard Robinson (at least as far the the QB position goes) is size. He is (generously?) listed at just 6 feet tall. One advantage Robinson has over other QB prospects is the ability to switch positions. If playing quarterback doesn't pan out (i.e. if he gets beaten out by Tate Forcier and/or other QBs down the road), he will be able to switch positions.
Video

Posted under Football, Recruiting
Tags: 2009, commitments, denard robinson

Trackbacks
More Blog Post