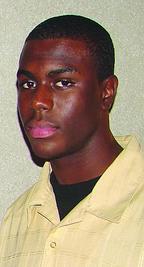 WR/DB Jerald Robinson has told Rich Rodriguez that he intends to sign with Michigan a year from now. Robinson stands 6-2 190-lbs, and has been clocked at 4.55 in the 40-yard dash. He hails from Canton South High School in Canton, Ohio.
Player Notes
When Michigan offered Robinson last week, many Michigan fans were (understandably) perplexed. With commitments from two outside wideouts already in the class of 2010, why keep going after them, especially this early in the process? However,one of Robinson's key traits is his versatility to play many positions. Once he gets to the college level, he could play wide receiver or safety, and considering he's still just a high school junior, he could even add more weight and play linebacker. Certainly the Michigan staff had a plan in order when they offered him, and they aren't just loading up at one position. He was an area all-star:
Robinson led South in receiving yards and receiving touchdowns this year and was second in receptions. The junior standout caught 34 passes for 756 yards and seven touchdowns. Five of his seven touchdown catches were 20 yards or longer, including an 86-yarder and a 56-yarder.

Robinson also recorded 56 tackles in the defensive backfield and led the team in interceptions with seven.
in addition to being named first team all-state.
Recruiting Notes
I first became aware of Robinson when Jim Stefani mentioned him on his spectacular underclassmen recruiting blog as a prospect of interest for Michigan. In the run-up to Signing Day 2009, he wasn't mentioned much, as the focus was on completing this year's class. However, after the '09 class was inked, Rodriguez and Co. almost immediately sent Robinson an offer (his first D-1 scholarship). After coming home from an Ohio State visit with only his Michigan offer in hand, it didn't take long for Jerald to jump on it, and he told just about anyone who would listen yesterday that he would be committing today. A commitment is expected to come to fruition, and he will be the 3rd commit in Michigan's recruiting class of 2010.
Video

Posted under Football, Recruiting
Tags: 2010, commitments, jerald robinson

2 Comments so far
More Blog Post