The 2010 Recruiting Board can be found here.
Added to the Board as Committed: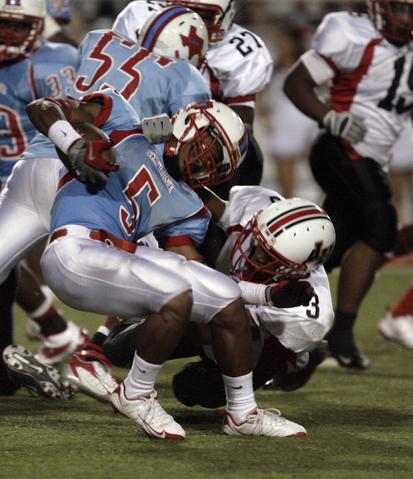 TX RB/Slot Tony Drake, who received an offer and committed immediately. Tony Drake Commitment Post. Jim Stefani posted an information dump on Drake, from which these are the highlights, translated into coherent thoughts:
Overshadowed by several D-I prospects at Skyline, including receivers Mike Davis (LSU) and Joe Powell (Oklahoma), but a legit big-time talent with 4.4 speed. Projects as a slotback in college. Drake combined for 605 rushing and receiving yards as a sophomore, and averaged 10.5 yards per touch. As a sophomore starter at WR he was a second team All-district choice and had 260 yards receiving, combined for 605 rushing and receiving yards, and averaged 10.5 yards per touch.. As a junior back-up RB to senior James White ([3-star] Iowa State signee), he was second on the team in rushing with 55 carries for 429 yards (7.8ypc) and 3 TDs. He added 7 receptions for 73 yards.
So, yeah.
From Jim Stefani's Twitter feed:
JimStefaniLook for Devin Gardner to offically go public to Michigan in the next 10 days
That was Friday, so keep an eye out in the next few days. Gardner said he would be announcing as soon as basketball ended, and his team lost 63-56 to Patrick Lucas-Perry (yes, that Lucas-Perry)'s Flint Powers team over the weekend. Thus, the announcement should come any time now.
SoFlaFootball brings the recruiting fluff on FL QB Stephen Morris (he recently got his first offer, from FIU). Also, Morris's junior highlights:

Stephen Morris from SoFLAfootball.com on Vimeo.
OH QB/Ath Spencer Ware has been selected to the Army AA game.
While we're on the topic of QB recruits, FL QB Christian Green is favoring Florida State (this is not earth-shattering news, so much as common knowledge by this point. However, he does say that he wants to play in a spread offense. Conventional wisdom also has him wanting to play WR, not QB, at the next level.
After stating in no uncertain terms that Michigan would be getting an official visit from him, SC RB Marcus Lattimore has released a top 10 list, which does indeed include Michigan. It also includes Georgia, Florida State, LSU, Auburn, South Carolina, Clemson, Maryland, North Carolina, and Duke. He has also stated that his Michigan official will be for The Game on November 21.
OH WR commit Jerald Robinson has been named 2nd team all-state in basketball.
GA WR Tai-ler Jones, a teammate of QB target Blake Sims, has narrowed his list of potential choices to 7:
"I made a top seven. It's Ohio State, Georgia, Notre Dame, Cal, UCLA, North Carolina and Stanford. I wanted to name a top five, but I just felt like I couldn't decide which two to cut. So I decided on a top seven."
No Michigan. With a decision coming by the end of April, the Wolverines don't have much time to get back in on him, so he's been removed from the board. Unclear whether this will have any effect on Michigan's pursuit of Sims.
Added to the board because he's been offered (info in header): NJ OL Jake Kaufman.
MN OL Seantrel Henderson still has to be considered a longshot for Michigan to land, but he "was especially impressed" with his unofficial visit last weekend.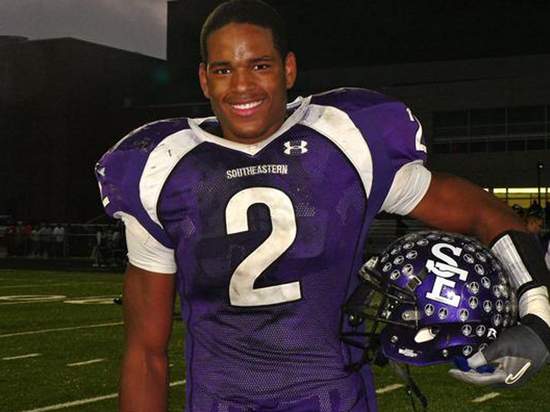 Josh Helmholdt sees your fluff, and raises with more fluff, Mr. Webb. I'd still consider the Wolverines a heavy underdog to land MI DE William Gholston, but they've been able to make some progress in recruiting him. As Helmholdt says in the Free Press, he's been on campus a lot lately, and has seemed to really like Greg Robinson, particularly the "spinner" position, which would fit his skill set perfectly. Gholston does not plan to make an early decision, which is probably good for Michigan. The longer he waits, the more opportunities he'll have to visit Michigan's campus, realize Mark Dantonio is a douchebag, see that 2008 was an aberration, not a trend, etc.
IL DE Chance Carter, long thought to be a Notre Dame lock anyway, has eliminated all but four schools from the running for his services: Notre Dame, Stanford, Nebraska, and Wisconsin. With an early commitment pending (he plans to decide by May), Michigan doesn't have much of a shot to get into this one, and I've removed him from the board.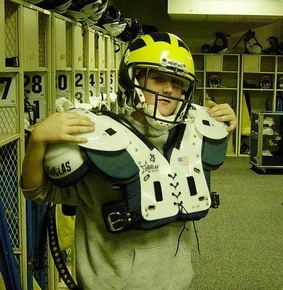 Sam Webb's weekly recruiting column in the Detroit News focused on TX LB Caleb Lavey this time around (particularly, his dad's having been an equipment manager in the 70s). Lavey, who recently visited Ann Arbor and enjoyed himself greatly, grew up a Michigan fan (pictured at left touring the Michigan locker room in 2002, at approximately 10 years old), and is carrying the Robert Tate Forcier Memorial Chilhood Michigan Fandom Picture torch for the class of 2010. With Michigan having offered few linebackers to this point, and Lavey one of them, I'd assume that he is one of their top LB prospects, and perhaps the one with whom they have the best chance this early in the process. He's currently in the process of unofficially visiting just about every school in America, so don't expect him to make a decision until the summer. For personal info on Caleb (including his schedule of visits), you can always check out his website.
Gholston photo by Matt Pargoff for the Detroit Free Press, Lavey photo from a family collection.
Posted under Football, Recruiting
Tags: 2010, blake sims, caleb lavey, chance carter, christian green, devin gardner, jake kaufman, jerald robinson, marcus lattimore, patrick lucas-perry, seantrel henderson, spencer ware, stephen morris, tai-ler jones, tony drake, william gholston

2 Comments so far
More Blog Post