A series exploring the commitments (and subsequent decommitments) of Michigan's lost members of the class of 2009.
The Commitment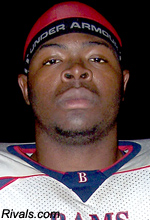 DeQuinta Jones may be in a dead heat with Pearlie Graves for the "most spectacularly-named decommit award," but he runs away with the "weirdest commit story" consolation prize. The first Michigan fans even heard Jones's name was when he committed to the Wolverines out of the blue while he was at LSU's summer camp. After a few days of bickering between the premium sites (TheWolverine said he was committed, GoBlueWolverine insisted that it wasn't a done deal – of course when it was revealed that he did indeed commit, GBW "broke" the story and claimed they were the first on the scene – nice integrity, guys), Jones was considered by all to be verbally committed to the Wolverines.
The Decommitment
Jones was nominally committed to the Wolverines up until the end, though later in the process, Michigan was lucky to be counted among his top 5. Jones opened up towards the end of the summer, taking visits to various schools in the Southeast. Even bringing Jones on campus a week and a half before Signing Day couldn't firm up his commitment. On Signing Day, he switched from Michigan to Arkansas, and sent the Razorbacks his letter of intent.
The Impact
Jones was the more highly-rated of Michigan's two lost defensive tackles, and considering the need along the D-line, this was a big loss for Michigan. Jones's recruitment also shined a light on the annoying inability of high school seniors to understand the word "commitment." I understand that you want to reserve your spot at some school, any school, but if Michigan is barely hanging on in your top group of schools, you are "committed" to them, you're "considering" them. If that's the case, giving an official decommitment would be the more honest approach to your recruitment. Of course, with the coaches of all the pursuers aware of the situation, it's more frustrating for fans than anyone.
Posted under Football, Recruiting
Tags: 2009, decommitment, dequinta jones

1 Comment so far
More Blog Post