As had been rumored by Wolverine Liberation Army more than a month ago, Class of 2009 Michigan commit Denard Robinson has left Michigan's recruiting class, and will indeed enroll at the University of Florida. He cited fan negativity on the internet as one of the primary reasons for his change of heart. It is unclear whether, as a signee of Michigan, he will have to sit out a year before becoming eligible at Florida.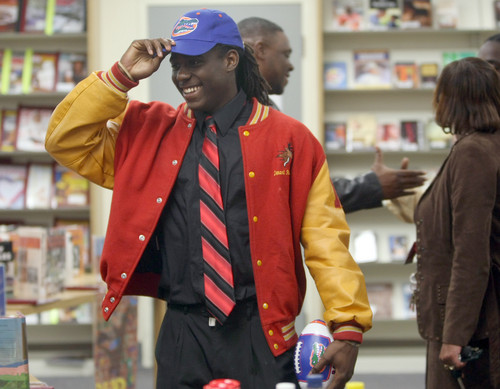 Robinson recently wowed Michigan fans by running the 100-meter dash in 10.44 seconds, the 2nd-fastest time for a high schooler yet this year. However, instead of taking that speed to Michigan's quarterback position, he now intends to head to the defensive secondary of the Gators. Florida and Michigan were his final two choices on Signing Day 2009, and he chose the Wolverines over the Gators, citing a desire to play with his friend, Adrian Witty (Witty, a high school teammate who played with Robinson on the same team in high school, could not be reached for comment), as well as the chance to prove himself as a signal-caller.
The Wolverines now only have two scholarship quarterbacks on the fall roster, one of whom is David Cone. Current rumors have them approaching Ohio State's Terrelle Pryor as a transfer candidate, which they consider a "trade up" for the departure of Justin Boren. Another possibility is Tennessee Titans quarterback Vince Young, who left the University of Texas after the 2005 season with one year of eligibility remaining.
Posted under Football, Recruiting
Tags: 2009, decommitment, denard robinson, i'll even say it's a joke in the tags in case people don't realize it

20 Comments so far
More Blog Post