With the Michigan State Series wrapping up today, the BigTen Conference season has reached the midpoint. The conference season hasn't fared so well for Michigan, obviously, as the Wolverines are currently 5-7 in 8th place. Lets take a look back at what we've seen, then look forward to what we have left to know what we have to do to make a solid run.
Where We've Been
@Iowa

Series Record
2-1
Scores
4-3
1-2
7-5
Game 1
Fetter gives up 3 early, but clamps down for the CG, and the comeback win
Game 2
Katzman/Miller/Burgoon combine to 6-hit Iowa but lose as we have no offense
Game 3
With snow piled up in the warning track, an ugly game defensively for both teams. We out hit and take advantage of 5 Iowa errors.
Outlook then
We should have swept, but this series shouldn't affect a tournament bid.
We should have swept. Iowa is one of only two teams below us in the standings. We definitely need that win now. Iowa's season has been a slow spiral downward. They took one game from Purdue, were swept by Indiana, and split with Northwestern. Iowa isn't a good team and we squandered that game.
vs Penn State



Series Record
1-2
Scores
4-6 (10)
9-5
5-16
Game 1
Fetter gives up 3 in the 4th and 1 in the fifth, but offense went to sleep and Miller gave up two in the 10th.
Game 2
Katzman pitched well, but PSU scored a 5 spot late from a LaMarre error, we scored 5 to answer in the bottom of that inning.
Game 3
We never stood a chance as Smith/Wilson/Sinnery/Gerbe give up 16 runs(12 earned). Total blowout.
Outlook then
My expectations for the team are falling pretty fast. With the massive amount of inconsistency, added with the sloppy play all weekend on defense, I'm not sure we get higher than a 4 seed in the BTT now.
We're pretty equal to Penn State. They are currently right at .500 in conference play. We'll be fighting them head to head for a 6th spot in the tournament. Losing the series to them hurts as it is the tie breaker.
vs Illinois

Series Record
1-2
Scores
4-2
8-10
5-11
Game 1
Fetter goes the distance again with 13 Ks. Offense scrapes by.
Game 2
We knock out the Big10s best pitcher (along with possible injury) out after 1 inning. Sloppy defense in the 5th gives up 5 runs.
Game 3
Alan Oaks kept the team in the game after a shaky Smith start. Unfortunately he stayed in about 3 batters too long, leading to a late 4 run inning.
Outlook then
I don't think this was too bad of a weekend for the team. Illinois is one of the better teams in the conference this season, especially in the pitching department. There were a few lapses though, especially on defense.
This still wasn't a bad series. We could have performed a little bit better, but the outcome is about what I would have expected. Illinois is a strong team and toward the top of the BigTen standings. They'll be a top 3 seed in the tournament.
@/vs Michigan State

Series Record
1-2
Scores
7-8 (11)
1-3
9-2
Game 1
Fetter gives up 3 (1 earned) in 8 innings, leaving with the lead. Burgoon blows the save by overthrowing 2nd base on a sac bunt. He blows the win again in the 10th giving up 2 earned runs. Katzman takes the loss in the 11th.
Game 2
Alan Oaks throws the game of his career, 7.2 innings, 3 Rs, 5 BB, 4 K. No offense as we only get 5 total bases.
Game 3
For the first time in conference play, we see Michigan play like they should. Bats hit well, Katzman/Miller pitch well.  We take care of business.
Outlook then
We really just lost two games like that?
Then is now. It still sucks. Michigan State defends their home field well, but we would have won Game 1 if not for the bullpen. We should have won Game 2 if not for the lack of offense. Would have, should have, didn't.  We finally woke up in game 3, but it was too late.  The game we played on Sunday is how we should look every time out.  We just don't have that consistency.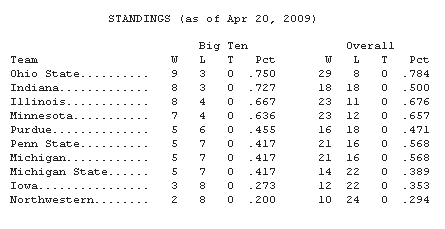 So here we are, sitting at 8th place (PSU and MSU hold tie breakers at 5-7) in the BigTen.  We are currently 4 games back of the top team, so we really aren't that far out.  We still have games against three of the top four teams.
Where We're Going
Indiana (6-3): The Hoosiers are a great hitting team and have probably the best offensive player in the BigTen with Josh Phegley. The Hoosiers have players in the top 3 of nearly every offensive category in BigTen play. They also rank third in the league in strikeouts. The Hoosiers split a pair with Minnesota, took 2 of 3 from Illinois, swept Iowa, and took 2 of 3 from Penn State. We may take one game in this series. I fear the Sunday game.
@#26 Ohio State (7-3): Everything the Hoosiers do, Ohio State does better. The Buckeyes sit atop the BigTen standing and will have a hostile home crowd. They took 2 from Penn State, 1 from Minnesota, swept Michigan State, and swept Purdue. My prediction: pain. I again think we have a shot to win a game, but it's not a very high chance. The one thing we've got going for us is no midweek games so the entire bullpen should be rested. Game 1 of Fetter vs Wimmers should be epic (aka most of you will find it boring as all hell).
Minnesota (7-3): Minnesota completes our three game streak of tough competition. The Gophers are ranked in some polls – deservedly so. Offensively, their numbers match up to Michigan's very well, but they get that extra hit to drive in the run where Michigan has failed consistently all year. On the pitching side, they are exactly opposite of Michigan… they are consistently good. Minnesota split a pair with Indiana, took 2 of three from Ohio State, swept Northwestern, and took 1 of three from Illinois. The outlook doesn't look good right now. It'll be a struggle to win a game here. The only good news I can offer is we do better against good pitchers than we do meh pitchers.
@Northwestern (2-7): Northwestern is the worst team in the BigTen. They are the worst hitting team in the BigTen and they don't pitch particularly well. They rival Michigan State for fewest strikeouts, but sit 7th in BigTen team ERA. I see us winning at least two games in this series, most likely a sweep. But as we've seen all season, we have a tendency to blow games to inferior teams.
I really think we end up with 6 or 7 wins out of that schedule, especially the way we're playing right now. That leaves us with a conference record around 11-13 or 12-12 for the season. The cut of for the tournament is historically around 12 wins (actually ~=16 wins, but we moved from 4 game series to 3 this year, 16*.75=12).
My projections for our competition after the jump.
Let's look at our chief competition for the 6 spot (Purdue/MSU/PSU) then to see what they have left.  Beware, these are just my opinions.  Baseball is a funny sport sometimes, and weird things can happen.  Teams can get hot or cold with the flip of a switch.  So take these as you may, this is just my guess as of today.
Penn State:
Illinois: Lucky the have home field advantage during Blue/White Weekend.  Medlar should be packed.  I think PSU steals game one but loses the next two.
@MSU: Penn State has been taking care of inferior opponents like they should, but MSU defends the home field very well.  Penn State takes either 1 or 2 here, my guess is 2.
@Iowa: Again on the road where Iowa has been bad (4-8, 2-8 against D1 teams).  Nittany Lions should sweep this.
Minnesota: PSU gets home field for this as well, which makes me think they take 1 or 2, I'll take just one.
My guess: seven more wins for the Nittany Lions, putting them at 12-12.
Purdue:
@Minnesota:  This series probably won't end well for Purdue.  They could get lucky and steal one, but I don't expect it.
Indiana: I don't think Purdue has much chance here of winning the series, but I like them to take one in the intrastate rivarly.
@MSU: MSU plays great at home, and Purdue isn't that strong of a team, I think Purdue only manages one win here.
Illinois: It may be at home, but I don't think Purdue does well here either.  Much like Michigan, they drop too many games they should close out.  They'd be lucky to get one, I think its a sweep.
My guess: two more wins in a collapse down the stretch. 7-16 mark has them well behind Michigan.  Its a shame we don't play these guys other than in the Big10/BigEast Challenge.  It'd be a good series.
Michigan State:
@Iowa: Michigan State struggles a little bit away from home, but Iowa, like said earlier, isn't good, much less at home.  MSU to take 2 of 3.
Penn State: As I said for Penn State, I like MSU here to take 2.
Purdue: MSU to take 2.
@Indiana: I think Indiana knocks the heck out of MSU bringing them back down to earth right before the season closes.  Indiana to sweep.
That's 6 wins to put them 11-12.
To Summarize:
Projected Standings

Penn State
12-12
Michigan
12-12
Michigan State
11-12
Purdue
7-16
The teams in yellow make the tournament, Michigan is one of them.  Thanks to a MSU game canceled due to weather, we just edge them out for the post season.  I'll reiterate that these are just projections; anything could happen down the stretch.  Just keep in mind, that while there has been some really poor play of late, we're not out.
Posted under Baseball
Tags: i use tags so liberally that chris fetter should overtake football for the most used by the end of the season

10 Comments so far
More Blog Post