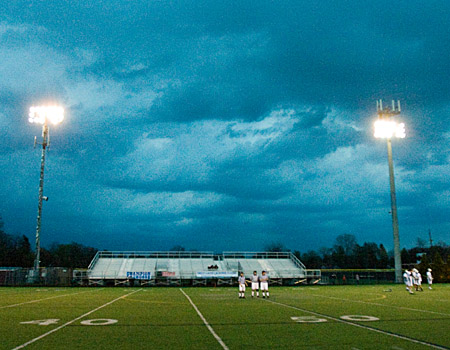 The Great Lakes Lacrosse Classic didn't go off quite as expected, as the weather in Birmingham didn't quite cooperate. However, the teams were not to be dissuaded from playing, and managed to squeeze in the game between a number of rain delays.
Michigan State
Official recap – Photo gallery
Michigan prevailed over the "home team" Spartans at the neutral-site venue of Birmingham Seaholm High School. After a lightning delay pushed the start of the game back until about 8:15, the Wolverines came out rusty, and looked out of sorts for the first few minutes, allowing Michigan State to get on the board first. However, that would be the closest State got to tasting victory against the in-state rivals.
Trevor Yealy started taking over, as he so often does, and completed a hat trick with over 3 minutes left to play in the first quarter. The second was perhaps the most impressive, as it was a diving effort from the left side of the net, as he was taking a big hit from a Spartan defender. Clark McIntyre, David Rogers, and Peter Vasher also scored for the Wolverines, before the game was delayed yet again after a particularly loud thunderclap.
The delay lasted from about 9pm until about 10:30, and Michigan again came out of the locker room needing to shake off a little rust. Though Peter Vasher re-opened the scoring, the Spartans added back-to-back goals to bring the game within 4 goals at 7-3. However, Michigan started to roll after that, scoring goal after goal, with few interruptions by the Spartans. By the end of the third, they held a 14-6 lead.
The Wolverines added 7 more goals in the final quarter of play, and finished the game on the winning end of a 21-9 margin. Yealy finished with 8 goals, and goalie Mark Stone made a career-high 18 saves. Fellow goalie Andrew Fowler made a brief appearance while recovering from a stress fracture in his foot, as Stone left the game for 50 seconds due to a minor injury of his own.
Lacrosse updates, now serving video! A healthy tip of the hat to MFlowBlue and Wes McGowan for bringing it to my attention and creating it in the first place, respectively.

Michigan Men's Lacrosse vs. Michigan State from Wes McGowan on Vimeo.
Up Next
The CCLA conference tournament tees of in Saline this weekend. The Wolverines have a first-round bye, and will face the winner of Friday's Pitt/Central Michigan game on Saturday at 4pm. The Wolverines did not face Pitt this year, but bested the Chippewas 21-4 in their only meeting this year. For the complete bracket, check out the CCLA website.
Posted under Other Sports
Tags: andrew fowler, lacrosse, mark stone, michigan state, peter vasher, postview, trevor yealy

1 Comment so far
More Blog Post