UPDATE: TimFAIL. Almost immediately after I say the game looks like it won't be canceled, it is. 
As of right now, it looks like the game is going to be played. I'll update accordingly if it's not. -t
We've got a home and home scheduled with Notre Dame that is supposed to start tonight at 7:05pm.  I'm not so optimistic it'll be played.  Tomorrow has a better chance.  If the game gets canceled tonight, I expect a doubleheader at Notre Dame tomorrow.  We'll see though.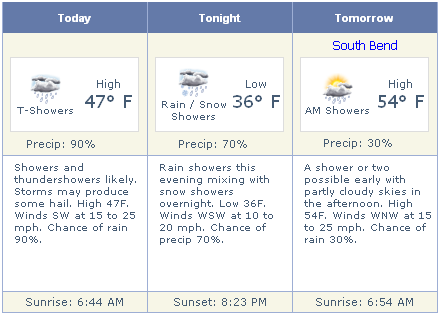 Notre Dame is a middle of the pack BigEast team, a conference Michigan has performed well against this year.  Unfortunately all that success was in week 1 during the BigEast/BigTen challenge when Michigan looked really good.  The Irish enter the series with a 22-14 record (8-7) in the BigEast.  Their team batting average is a very respectable .309, and the team ERA of 4.93 is also pretty good.
Tonight's game features Kolby Wood and Notre Dame's senior lefty Sam Elam.  Elam will be making his 6th appearance and first start in this game.  He appears to be high risk-high reward.  He has struck out 13 batters in 9 innings, but he's also walked 11 and given up 9 earned runs.  His opponent batting average is only .161, but the walks have really hurt him.
Wednesday will see Mike Wilson take on Irish freshman lefty Ryan Richter.  Richter is 3-1 in 7 appearances (1 start) with a 2.04 ERA.  In 17.2 innings of work, he's given up 17 hits, 8 walks, and 16 strikeouts.  Looks like were getting the power lefties from the Irish.  Richter's only start came against Northwestern, a 5-1 loss where he only lasted 3.2 innings while giving up 2 runs on 6 hits, 3 walks, and 6 strikeouts.
AJ Pollack leads the Irish offense in average with .350, but he also has his share of power with 5 homers and ten doubles.  Pollack also leads the team with 13 steals in 18 attempts.  He is joined by Jeremey Barnes in the lineup who is second on the team with .341 average and 7 homers.  Barnes is the leading slugger at a .644 slugging percentage.  Greg Sherry and Golden Tate are also both hitting over .335.  Tate, unsurprisingly, is also a stolen base threat.  He's 6/7 on the year.
Other Notes:
Posted under Baseball
Tags: kolby wood, mike wilson, notre dame, praying against rain

Trackbacks
More Blog Post