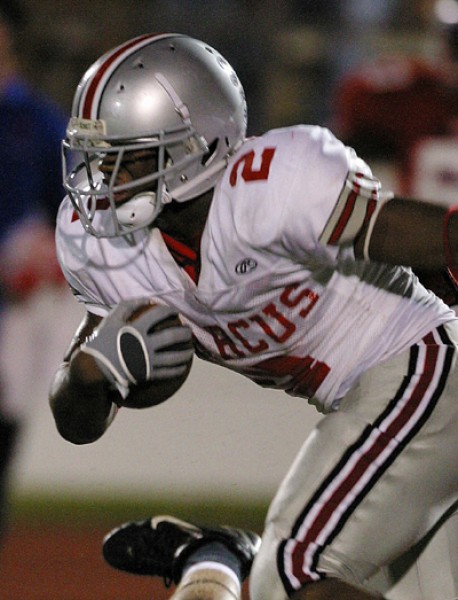 Moved to committed:
TX RB Stephen Hopkins. Commitment Post.
Sam Webb brings the fluff on MI QB Commit Devin Gardner in the Detroit News. Of course, the article wouldn't be complete without this oft-quoted (in the past week or so) soundbite from Devin:
An Ohio State fan growing up, Gardner said he has had little problem flipping the loyalty switch.

"It's off," he said matter-of-factly. "They're going to get it just like everybody else."
So, huzzah for that. Speaking of Gardner, Matt Dorsey updates the in-state Top 10 in the Freep. Oddly enough, a Michigan State writer dropped Devin a spot in the rankings after he committed to Michigan. What are the odds?
At least one Rivals writer is pretty confident that TX QB Jeremy Johnson is going to commit to West Virginia after his visit this weekend. He was a "maybe" to visit Michigan this past weekend, but to the best of my knowledge, didn't show. Stand by for removing him from the board.
Some USA Today fluff on CA RB Brennan Clay, focusing on his relationship with Tate Forcier. The USA Today is much more positive about Michigan's chances to land Clay than conventional wisdom, for the record.
With the Wolverines in pretty serious need of defensive tackles in this class, but very few elite options out there, it seems as though they should be jumping all over PA DT Sharrif Floyd from Philadelphia. However, at this point, it doesn't appear that there's too much mutual interest.
Michigan may be among the favorites for SC RB Marcus Lattimore, but his teammate DT/DE Brandon Willis, does not have Michigan in his top 5.
PA DE Kyle Baublitz is reporting a Michigan offer.
Michigan is joined by 9 other schools in FL DE Lynden Trail's list of finalists. The others are Florida, Florida State, Miami, Southern California, Georgia, Alabama, South Florida, Tennessee, and South Carolina.
Michigan has been FL S Marvin Robinson's leader for quite some time now (even if he hasn't always articulated his favorites as such), but it appears that he might be almost ready to take the next step in his recruitment. He says he may commit to the Wolverines within a couple weeks or by the end of spring.
Michigan "is recruiting" FL CB Cody Riggs, though the Wolverines haven't yet offered.
And how about a removal or six while I'm updating?
OH CB Courtney Avery gives a verbal to Stanford.
FL CB Jaylen Watkins committed to Florida.
FL CB Mark Deas committed to Georgia.
FL LB Gideon Ajagbe has committed to Florida.
NC OL Robert Crisp committed to… NC State?
FL RB Antwon Chisholm from Glades Central brandished a knife at a mall security guard, and it is now unlikely he'll end up at a BCS school, assuming there's anyone that wants to take him at all.
Posted under Football, Recruiting
Tags: 2010, antwon chisholm, brandon willis, brennan clay, cody riggs, courtney avery, devin gardner, gideon ajagbe, jaylen watkins, jeremy johnson, kyle baublitz, lynden trail, marcus lattimore, mark deas, marvin robinson, robert crisp, sharrif floyd, stephen hopkins, tate forcier

Comments are closed.
More Blog Post