As time goes by, it seems more and more inevitable that SC QB Cornelius Jones might pick Michigan. He's going to visit this summer.
Removed VA QB Phillip Sims. He committed to Alabama, relieving me of my responsibility of looking for excuses to drop him. I'm comin' for you next, Heaps.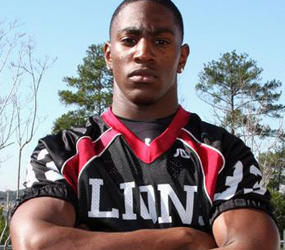 ESPN recruiting fluff on GA RB Mack Brown. From the article it appears as though he's more of a speed back than a big back, which I had previously pegged him as. Still, with 2 backs in the class, I wouldn't be surprised if the coaching staff holds out for Marcus Lattimore or bust ("bust" here meaning "Austin White/Nick Hill"). Additional Brown mini-fluff from the Atlanta Journal-Constitution.
MD RB Marcus Coker, who was part of the mass offering of DeMatha players last week, has now confirmed that he's received an offer from the Wolverines (info in header). Still no definitive word on any of the other four guys.
I'd kinda pegged IL TE CJ Fiedorowicz as a Notre Dame lock, but it appears as though he's favoring Iowa and Ohio State at this point. Michigan doesn't seem to be in the thick of his recruitment, but he'd be an awesome weapon in the spread offense.
OH DE Darryl Baldwin was scheduled to visit Ann Arbor on Monday, though there haven't been any (free) reports on whether said visit was positive or not.
Michigan is still showing interest in IL DE Louis Trinca-Pasat. Sun-Times fluff on Trinca and his teammate OL Laken Tomlinson. I've added Tomlinson to the board.
It's almost difficult to NOT read the tea leaves, as each day brings further evidence (in header) that FL S Marvin Robinson is going to commit to
the Wolverines, and do so sometime soon. That would (hopefully) open the floodgates a bit for some other defensive recruits to hop on board. Speaking of which, Josh Helmholdt goes over the spoils of the spring game in the Freep, including a tidbit on Marvin:
"I love the Michigan fans and I love the support they give their players," Columbus (Ohio) Brookhaven defensive end Derrick Bryant remarked. "I was thinking some college stadiums don't have that many people that come for a regular game and they had that many people for a scrimmage."

"It was definitely a great environment to see all the people there supporting Michigan," added Livonia Stevenson running back Austin White…

The recruiting results of Michigan's spring game weekend could be immediately seen with the Saturday commitment of Flower Mound (Tex.) Marcus running back Stephen Hopkins. Several more players, however, elevated Michigan on their list of favorites following visits this past weekend.

[Torrian] Wilson, a 6-4, 315-pound offensive lineman ranked as the No. 131 player in the country by Rivals.com, named Michigan his leader after finishing up a five-day visit in Michigan. Eagle Lake (Fla.) Lake Region four-star safety Marvin Robinson, the No. 99 player in the country according to Rivals.com, also named the Wolverines as his top team and expects to make his commitment official in the next 2-3 weeks.
The Wolverines were already Robinson's leader, though the imminent commitment thing is new this week. FL OL Torrian Wilson enjoyed the spring game as well, but it will still be tough to pull him from the Hurricanes. The other two gentlemen enjoying themselves can obviously be nothing other than a positive.
Information on a few different guys from Phil Kornblut:
USC has offered RB Roy Finch (5-8, 170) of Niceville, Fla. He also has offers from Oklahoma, Alabama, Ole Miss, Mississippi State, Southern Miss, Auburn, Vanderbilt, Stanford, Oregon, Michigan and Texas A&M.

DB Brashaud Breeland (6-2, 200) of Allendale-Fairfax also was at USC's practice last Thursday night. He's considering the Gamecocks and Clemson strongly along with Wake Forest, N.C. State, Virginia Tech, Maryland, Michigan and Tennessee.
So, Finch is now moved to "offered" on the board, and it appears as though Bashaud Breeland (first name sic in the quote, as I believe there's no "r") has Michigan in an unofficial top 8 of sorts. There was a bit more information in the article, but it was redundant from previous recruiting updates.
Posted under Football, Recruiting
Tags: austin white, bashaud breeland, cj fiedorowicz, cornelius jones, darryl baldwin, derrick bryant, laken tomlinson, louis trinca-pasat, mack brown, marcus coker, marcus lattimore, marvin robinson, nick hill, phillip sims, roy finch, stephen hopkins, torrian wilson

4 Comments so far
Trackbacks
More Blog Post