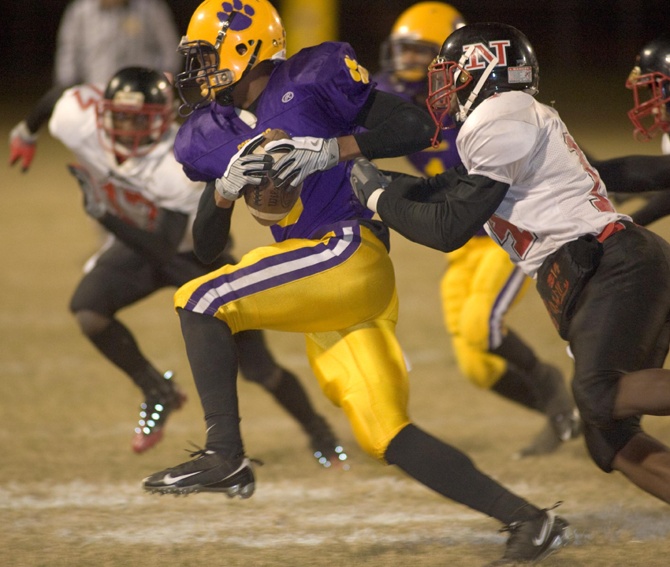 Bow before the 2010 Recruiting Board.
ESPN posi-fluff on LA QB Munchie LeGaux. They say his stock is likely to rise, though it's unclear whether that might result in more offers for the dual-threat passer. He performed well at an Elite 11 camp.
An update on SC RB Marcus Lattimore's favoring of Auburn:
Running back Marcus Lattimore (6-0, 210) of Byrnes High in Duncan visited Auburn on Friday and Saturday with his mother, stepdad and a friend, and he left there with the Tigers the favorite for his services.

"They've got a big lead," Lattimore said. "Georgia and Florida State would be second. And USC and Clemson are still going to be up there. My mom liked (new Auburn head) Coach Gene Chizik and everything. He has a three-year plan for me and no other college has done that for me."

Lattimore said he won't take any more visits until he goes to Penn State this summer. He will attend the Nike camp this weekend at Georgia.
Are they so entrenched that they can't be beaten? Certainly not. Does it sound like Michigan has a good chance? No.
Despite the lack of news on FL RB Cassius McDowell of late, he reports that the Wolverines still lead for him. It's unclear whether Michigan is interested in taking another scatback-type in this class, but if they are, the HS teammate of Denard Robinson and Adrian Witty is certainly a good option.
Sounds as though OH RB Roderick Smith is about ready to drop for the Buckeyes. Removal from the board is coming soon for Smith.
FL OL Torrian Wilson isn't saying Michigan leads for his services anymore, but SoFlaFootball still says the Maize and Blue are in his top group. The Wolverines, Tennessee, and Stanford will be three of his unofficial visits, with the remaining two TBD.
CA DT Kirifi Taula wants to stay in the PAC-10 (info in header). He's cruisin' straight towards removal from the board, and it appears as though his days on it are limited indeed. His high school, Anaheim Servite, is a pretty big USC feeder, so don't be surprised if he eventually ends up there.
The eligibility saga of NC DT Gabe King continues, as the North Carolina High School Athletic Association has declared that he will not be able to play football for Northern Guilford (where he has transferred) in the fall. This will probably cool some schools on him, and a Greensboro correspondent has said that King is probably a guy that Michigan should stay away from, as King is always facing some sort of disciplinary issue.
Removed PA DT Aaron Donald, who has committed to Pitt. He is a high school teammate of CB prospects Cullen Christian and Brandon Ifill. Michigan's recruitment of Ifill has tailed off a little bit, but the Wolverines are still the favorite for Christian. I assume Donald's commitment will give Pitt a bit of help for either of those two.
OH LB Jordan Hicks has a top group consisting of Ohio State, Texas, Florida, and USC (info in header). No word on whether that a finalist list, or simply current favorites. We'll wait and see what the next phase of his recruitment will be, but I certainly don't think Michigan is in strong position.
Audio interview with FL LB Christian Jones, with some brief mentions of his recruitment (Michigan is not mentioned). His Florida State ties are pretty strong, so be aware that Michigan's chances to land him are probably not very good.
FL CB Travis Williams recently visited Ann Arbor, and came away with a decision made (info in header). The two premium sites disagree on whether he'll actually commit to the Wolverines soon, but ESPN showcases its continued incompetence, reporting that Williams has committed (he hasn't). Even just gleaning the information from article titles, it's pretty clear that he wants to commit to Michigan, but the Wolverines aren't quite ready for that, because they like their chances with more highly-rated guys like FL CB Lo Wood and PA CB Cullen Christian, and don't want to reach for Williams while those other guys are still in play. Should Michigan snag Travis in the end, don't let that 4.95 40 time on Scout scare you: ESPN reports a combine-verified 4.61.
Track-a-palooza!:
2009 signee Fitzgerald Toussaint ran a 10.86 100m over the weekend.
MI CB Dior Mathis ran a slightly-less-impressive 11.0 100m.
Hilariously whiny and deliciously SpartyNO fluff in the Free Press about how Michigan State could totally recruit Cass Tech if they wanted to.
Posted under Football, Recruiting
Tags: 2009, 2010, aaron donald, adrian witty, brandon ifill, cassius mcdowell, christian jones, cullen christian, denard robinson, dior mathis, fitzgerald toussaint, gabe king, jordan hicks, kirifi taula, lorenza wood, marcus lattimore, michigan state hate, munchie legaux, roderick smith, torrian wilson, travis williams

4 Comments so far
More Blog Post