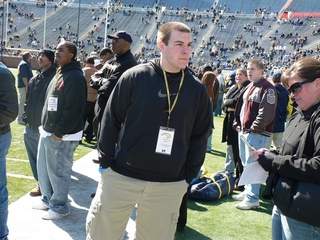 For the second year in a row, the Michigan Wolverines will be hosting a "Barbecue at the Big House" recruiting event, of which the title is self-explanatory. For those of you who haven't quite gotten the picture, Josh Helmholdt explains in the Free Press, and includes a couple expected visitors who aren't on other free lists: FL CB Tony Grimes and OH OL Christian Pace (pictured at left). The guest list is rarely definite for recruiting events, but let's take a look at some of the other expected visitors, courtesy of Rivals's Mike Farrell:
Among those expected to attend include committed linebacker Antonio Kinard, defensive backs Latwan Anderson and Cullen Christian, linebacker Ken Wilkins, offensive linemen Skyler Schofner and Andrew Donnal, running backs Tony Jones and Andre Givens, defensive ends Jibreel Black and Marcus Rush and wide receivers Brandon Ifill and Andrew Carswell. This is, of course, in addition to the majority of the top prospects in the state of Michigan.
Others have mentioned possibly making it in to Ann Arbor for the event:
As Farrell mentioned, expect many of the top in-state players from Michigan and some from Ohio, especially those who are already committed to Michigan, or live in close proximity. Jeremy Jackson is a mortal lock to be there, Devin Gardner will likely show, etc.
The Wolverines also may be receiving a verbal commitment or two over the weekend. Cullen Christian, Marcus Rush, and Ken Wilkins have maintained Michigan as their favorites for some time. Some are surprised that none have dropped for Michigan yet, and Ken Wilkins told mgoblog's Tom Van Haaren that he might commit to the Wolverines at the first opportunity.
Stay tuned.
Posted under Football, Recruiting
Tags: 2010, 2011, andre givens, andrew carswell, andrew donnal, antonio kinard, brad harrah, brandon ifill, christian pace, cullen christian, dan schneider, devin gardner, jeremy jackson, jewone snow, jibreel black, ken wilkins, latwan anderson, marcus rush, skyler schofner, steve miller, tony grimes, tony jones, william gholston

2 Comments so far
More Blog Post