HATE OHIO STATE
First off, all apologies to the baseball crowd out there.  It's the last week of classes and the requisite workload accompanying the end of classes.  Nothing says great week like 2 exams, a final presentation, and a final paper all on a Wednesday.  I wrote 14 pages in 3.5 hours – quitting abruptly during the last final because I couldn't write without a writhing pain in my fingers.  I tried to go southpaw, but it just wasn't happening.  And what makes this all the better is I get to virtually repeat that day on Monday, so scant posting again this weekend.
And now on to the baseball.  Michigan takes on 1st place Ohio State in Columbus tonight, tomorrow, and Sunday.  Ohio State is far and away the highest ranked team in the BigTen.  They enter today's game with an 11-4 conference record, 32-10* overall, including a win at then #2 Miami. The Buckeyes currently sit #28 in Boyd's psuedo-RPI and #30 in NCAA.com's RPI.  We sit at 180 and 184 respectively in those polls.  While I don't see us taking the series, Since we're going to sweep the series, we're going to drop their RPI plenty this weekend and get ours boosted closer to the 100 mark.  I can sense it.
Friday's (today @7pm) game looks to be the best pitching match up of the BigTen conference season.  The two top pitchers (not to take anything away from Indiana's Arnett) in the league square off, Chris Fetter for Michigan and Alex Wimmers for Ohio State. Wimmers currently has a 3.14 ERA, good for 8th in the BigTen, but he does lead the conference in strikeouts with 89.  That doesn't bode well.
The top reliever will also be seen in former starting ace Jake Hale.  Hale's move to the closer role this year has seen him 27 appearances and 10 saves.  His ERA is only 1.00 and he's struck out 48 in 36 innings.  That's ridiculous.
If this game finishes 1-0, don't be surprised.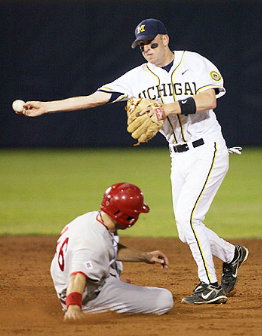 Saturday (1pm) should see Dean Wolosiansky start for the Buckeyes.  Wolosiansky is 9-1 with a 5.09 ERA.  If I remember correctly, Dean isn't an overpowering pitcher, instead living by his location and inducing ground balls.  He only has 37 Ks this season in 53 innings.  He did pitch against Michigan last year, going 6.2 IP and only allowing 2 runs in the Michigan loss.
In that same Michigan loss last year, he was relieved by Eric Best, who is expected to start the Sunday game (1pm).  Best is 6-2 on the season with a 4.93 ERA.  He hasn't been that dominating this year and has floated in and out of the starter role.  He's got 14 appearances, only 8 starts.  His last start was last weekend against Northwestern, a loss.
On offense, Ohio State hits and hits well.  They currently have the #31 batting average in D1 at .329.  They lead the BigTen in scoring, runs, hits, batting average, slugging percentage, home runs, and triples.  The only weakness in their lineup appears to be shortstop and third base.  The left side of the infield is held by third baseman Justin Miller (.278 BA) and shortstop Cory Rupert (.272 BA).  Those two are the on regulars batting less than .325 and slugging less than .450.  That's ridiculous.  I'll save giving you the stats on the rest of the lineup, just know they hit well.
Ohio State doesn't run much, but when they try, they are successful (32/41).  Lead off man and left fielder Zach Hurley has the most attempts at 13, 11 times successful.  Three hole hitter Micheal Stephens is second on the team with 9 attempts, 7 successful.
Outlook
This is a tough series for Michigan given not just how good Ohio State is, but also the atmosphere in Columbus.  That said, I think this series is a good match up for Michigan.  Fetter is always reliable for a great start, and Michigan has done well against the top starters from other teams.  The back half of the OSU starting rotation is a little weak, it just becomes a question of if our pitching can hold up.  We can't afford to make the small mental errors on defense or fail at the small ball this weekend.
I'm feeling lucky. I say Michigan wins two.
We're On TV
The entire weekend series is available to all of you with the BTN this weekend. The games are on at 7:05 tonight, and 1 the next two days; make sure you catch all the action.  If anyone wants to record it and send me a torrent link, I'd appreciate it.  Living outside the BTN footprint, all I've got is UM's IPTV which doesn't record or, for that matter, stream too easily.
*They also lost to Rollins, who isn't even a D1 school, so technically its 32-9.  Just thought I'd point out they lose to a D2 school.
Posted under Baseball
Tags: hiatus, ohio state hate

5 Comments so far
More Blog Post