As I've been posting about over the past couple days, the Michigan lacrosse team is not only participating in the MCLA National Tournament, but also excelling in Denver. They defeated Texas and Sonoma State over the first two rounds, and will face Colorado in the semifinal game. Before we start to look forward, let's recap the past couple games.
Michigan 11-5 Texas
Has has been the case several times this season, the Wolverines got off to a slow offensive start when they faced the Longhorns. However, the defense was similarly slow-starting on this day, allowing Texas to take a 3-1 lead before the Michigan team started humming. Michigan scored the next 5 goals and never looked back. In the second half, Michigan got off to another slow start offensively, but they didn't allow Texas to score and were able to work through the offensive slump, scoring 3 in the quarter. Though Trevor Yealy led the team (and the nation) in scoring this season, it was senior Peter Vasher who was the offensive star on this day, scoring 5 goals for Michigan. It's a shame he was hurt for much of the year, because the Michigan offense could have benefitted from another bigtime scorer. Mark Stone played the first 3 quarters in net for Michigan, and Andrew Fowler played the fourth.
MFlowBlue recap – Official recap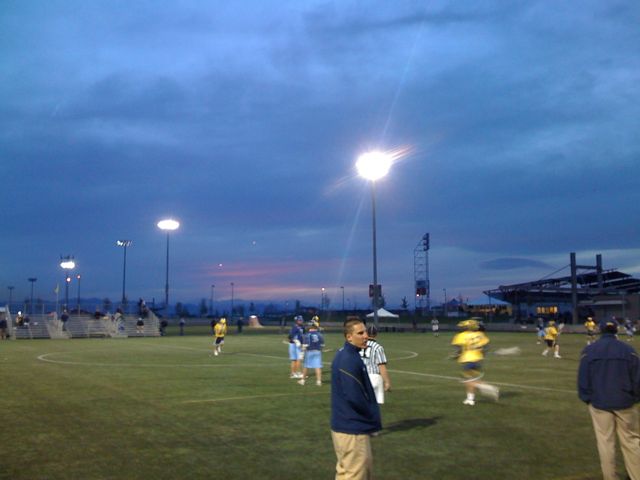 Michigan 22-6 Sonoma State
Perhaps inspired by their own lackadaisical first half effort against Texas, Michigan was determined not to have a slow start in round 2 against the Seawolves of Sonoma State. As the sun set on Dick's Sporting Goods Park, Michigan led 3-1 just 5 minutes into the game, on their way to a stunning 17-4 lead… at halftime. Michigan's defense was operating as efficiently as its offense, and to quote @UMichLacrosse "Eylachar: One man clearing machine." Trevor Yealy scored 5 for the Wolverines, Riley Kearns and Wes McGowan each completed hat tricks, Kevin Zorovich had 4 points for Michigan, and 11 different Michigan players scored in all. Mark Stone and Andrew Fowler split time in net, with Stone getting the starting nod. Michigan scored their second-highest output of the year, trailing only their 33-8 pounding of Eastern Michigan on March 20th, by putting 22 goals on the Seawolves. Of course, they probably could have scored many more, given the uneven distribution of goals over the halves.
MFlowBlue recap – Official recap
Colorado
As we enter the third round of the tournament, Michigan will finally face an opponent that they've already seen before in the Colorado Buffaloes. The game will take place tomorrow night at 8PM Mountain time (10Pm Eastern) in the stadium at Dick's Sporting Good Park.


Colorado finished the season 15-6, with a 5-0 record in the Rocky Mountain Lacrosse Conference, with a nailbiter 11-10 loss to BYU in the conference final. Their body of work over the season earned them an at-large bid to the MCLA Tournament, and the national #5 seed. An 11-3 decision over UCSB got them through the first round, and they took down #4 Minnesota-Duluth in round 2 for the right to face Michigan.

Michigan thrashed the then-#4 Buffs 13-4 in the home opener at Oosterbaan Fieldhouse. Michigan led 9-2 at halftime, adding a 4-2 second-half advantage as well. Trevor Yealy, Aaron Hodari, and Riley Kearns had 5, 3, and 2 goals for Michigan, respectively. 4 different Colorado players scored. In addition to facing each other earlier this year, Michigan and Colorado also had several opponents in common. CU lost 11-3 to Michigan State (Michigan pounded the Spartans 21-9), beat BYU 10-8 in Provo and lost 11-0 at a neutral site (Michigan prevailed 14-11 in Ann Arbor over the Cougs), lost a home game 8-7 to Sonoma State (Michigan beat them on a neutral field yesterday by a rather lopsided score – see above), and beat Colorado State 11-4 (Michigan won 16-3 against the Rams).

James Blackburn led Colorado in scoring on the year, notching 36 goals and 14 assists. Behind him were Darren Hulick and Joel Packer with 33 and 31 goals, respectively. Josh Albrecht and Tyler Snyder each had 23 point for Colorado. In net, senior Kevin Moriarty played the majority of the year, but 3 freshmen also saw duty for the Buffaloes. Against Michigan, Blackburn, Hulick, Snyder, and Michael Emerson each scored a goal. Moriarty played almost the entire game, before taking a penalty with just over a minute to go, and Will Brown was placed between the pipes.
Who's Left?
One of the advantages of playing a tough schedule over the course of the year is that Michigan has already faced every team left in the bracket. Aside from Colorado, who they'll play tomorrow, (2) BYU and (3) Chapman will square off in the other semifinal game. Michigan beat Chapman 13-10 in Orange, CA, and took down BYU 14-11 at Oosterbaan. Neither team will be a mystery to Michigan, nor are they a mystery to each other. They played in Provo at the end of the regular season, and Chapman walked away victims of a 10-7 defeat at the hands of the Cougars. BYU and Michigan are the only two teams Chapman lost to this year.
Posted under Other Sports
Tags: andrew fowler, brigham young, chapman, colorado, kevin zorovich, mark stone, peter vasher, postview, preview, riley kearns, sonoma state, texas, trevor yealy, wes mcgowan, zach elyachar

4 Comments so far
More Blog Post