vs. Minnesota
Ray Fisher Stadium
Ann Arbor, MI
Game 1 – 6:35pm Friday
Starters:  Handran (RHP, 6-2, 3.45 ERA)  vs.  Chris Fetter (6-2, 2.44 ERA)
Media Game 1: Live Stats and Audio
Game 2 -1:05pm Saturday
Starters: Buske (RHP, 7-3, 2.56 ERA) vs. TBA
Media Game 2: Live Stats and Audio
Game 3 – 1:05pm Sunday
Starters: Rosin (RHP, 5-1, 3.95 ERA) vs.  Katzman(7-4, 2.94 ERA)
Media Game 1: Live Stats and Audio
Series: Michigan trails 82-81
Last Meeting: Michigan swept 3 in 2008
Last Michigan Loss: April 6, 2008 (7 game winning streak)
Last Michigan Series Loss – 2005 (sweep @Minnesota)
Overview
Minnesota enters this series in second place in the BigTen, just one half game behind Illinois.  The Gophers are 13-4 in conference play, 31-13 overall.  They currently lead the conference in ERA at 4.38, good for #41 in the nation.  Their hitting isn't too bad either.  Minnesota is 4th in the BigTen at .318 batting average, good for #65 in the nation.  They have a good balance between pitching and hitting, it should be a tough series for Michigan.
Offense
Minnesota is lead by junior second baseman Derek McCallum.  McCallum is currently batting .399 on the season (top of all regular BigTen starters), so obviously he can hit.  As if his average wasn't enough, his power is just as notable.  On the year, he has 14 homeruns, 10 doubles, and 3 triples for a .734 slugging percentage, highest in the BigTen by at least .060 points.  Thats huge.  He also leads the conference in RBIs with 61.
The Gophers also have 5 other batters with averages over .330, including Michael Kvasnicka, the other power threat.  Kvasnicka owns a .359 batting average with 15 doubles and 7 home runs. He has 47 RBIs on the year, second on the team.
Matt Nohlety (.344 batting average) will be the big stolen base threat for Minnesota; he currently has 19 steals in 24 attempts.  The Gophers as a team do attempt plenty of steals.  They are about on par with Michigan in attempts, but have a slightly better percentage with 64 steals in 87 attempts (Michigan is 56 for 90).
AJ Peterson (.366 BA), Justin Gominsky (.360), and Kyle Hudson (.330) round out the hitters over .330.  None of these look to be overly powerful, but they get on base plenty.  The only other major source of power comes from Nick O'Shea who is hitting .274 on the year with 11 doubles and 8 home runs.
One statistic that may or may not make a difference this year comes from Kyle Gleason.  Despite his .232 batting average, he has worked 33 walks this season.  That actually puts his on base percentage at .471.  That stat just stood out strangely.  Let's throw him strikes.
Pitching
Starting Friday is Chancy Handran.  His 3.45 ERA is pretty good, but he does give up plenty of base runners.  In 70 innings pitched, he's given up 70 hits and 26 walks.  He has only struck out 42 in that time, too.  That bodes well.
Saturday's starter Tom Buske is an outlier when it comes to BigTen Pitcher of the Year.  His 2.45 ERA is second only to Chris Fetter, but I don't hear anything about him when it comes to POTY talk.  Weird.  He hasn't been overwhelming with strikeouts with only 58 on the year, but in his 70 innings, he's only given up 52 hits and 18 walks.  That's pretty good compared to the rest of the league.
Sunday sees Seth Rosin to the mound.  His ERA is 3.95, also very good for a BigTen starter.  He doesn't usually last very long into games, with just under 5 innings per start (54.2 innings in 11 starts).  He has 46 Ks in those starts and only walked 11.
The closer for the Gophers is Scott Matyas.  He currently has 10 saves in 17 appearances spanning 18.2 innings.  He has struck out 28 this season and given up only 7 runs.
Weather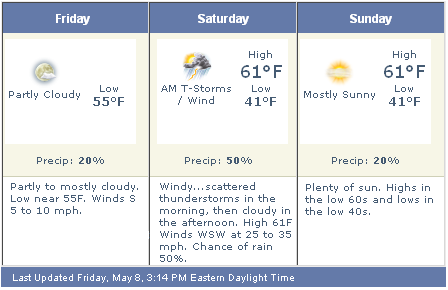 Looks like we should get all three games in this weekend.  Saturday may have a little bit of a delay to it.  Those winds should be helacious, blowing in strong from right center.
Promotions and Announcements
Friday (full promotional schedule):
The first 1,000 fans will receive a maize or blue glow stick necklace to help us light up the Wilpon Baseball Complex.

Join us beginning at 5:30 p.m. to participate in our inflatable games, face painting, and much more!
Saturday:
All Great Sauk Trail Boy Scouts and their families are invited to attend this game for only $3! Click HERE for downloadable flyer!

Beginning at Noon enjoy an ice cream sundae courtesy of Michigan Baseball!

The first 500 fans will receive the fourth-set of Michigan baseball trading cards
Sunday:
To celebrate Mother's and Grandmother's Michigan baseball will host a brunch for families to attend for only $15 for adults and $10 for youth 13 and under. This includes the brunch, a plant for the honored guest(s) and a reserved chairback seat to the game. To RSVP, contact Katy Jackson at katjacks@umich.edu or 734-647-1261. For more information, download the event flyer (PDF).
Also, there is some street closures happening this weekend.  Northbound State Street will be closed.  MGoBlue:
The recommended route for fans traveling from points south who normally use State Street is to take Ann Arbor-Saline Road / Main Street to Hoover and use the parking lot entrance by the band building and Canham Natatorium.
Travel to the game and travel safe.
Outlook
Michigan needs wins.  This weekend is a tough series.  Michigan has a great chance of taking tonight's game, and a decent shot at taking the series.  I felt lucky last week and saw us no hit in the first game.  I'm feeling lucky again, but this time I think we take game 1 and game 3 specifically.  Game two will be rough against Buske, but get out there and support the team.  We need the wins.
Posted under Baseball
Tags: chris fetter, eric katzman, minnesota, must win, only team we have a losing record against in conference history

Comments are closed.
More Blog Post