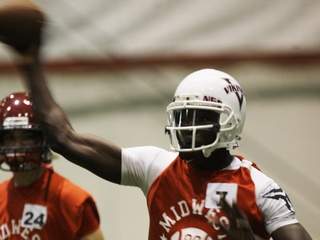 Josh Helmholdt fluff in the Free Press about MI QB Commit Devin Gardner's recent performance at the Midwest Elite Camp. The article masterfully spews a couple hundred words without actually talking about performance at the camp. The biggest conclusion you can draw is "Devin Gardner is a dual-threat quarterback, and was present," which, like, duh. There's also a rather brief mention that his mechanics need work before he's able to contribute at the next level, which anyone who follows Michigan recruiting in any capacity already knew. MI QB Robert Bolden was also there, but the boilerplate discussion doesn't give much of a scouting report or recruiting vibe on him, either.
IS QB AJ Derby is back from an Elite 11 camp and campus tour on the west coast, and is talking a little recruiting. He'll narrow down to a top 8 or top 5 sometime over the summer, and make all of his official visits. Michigan offered him as a QB a couple weeks ago, and is likely to make at least his first cut.
CA RB Malcolm Jones has a top three of Stanford, UCLA, and Oklahoma (info in header). Michigan doesn't seem to be particularly interested in him, so his presence on the board may be starting to head towards an end.
SC RB/CB Jerrell Priester says he'll camp at Michigan this summer. He doesn't have an offer yet, but that might be a good opportunity for him to earn one. Of course, Michigan's chances for a guy who comes out with a quote like this:
"Notre Dame is at the top of the list, but it's open," he said. "I've got to go where I'm wanted and do the best for me."
are probably not superb.
Though it was reported last week that FL WR Fred Pickett had committed to West Virginia, both he and his coach say that is not in fact the case. Though Pickett's likelihood of landing in Ann Arbor is approximately zero, this is still somewhat relevant to Michigan fans. Pahokee head coach Blaze Thompson says he's now instructing his players (several of whom Michigan has offered, including WRs De'Joshua Johnson and Chris Dunkley, CB Merrill Noel, and others) to take their time in the recruiting process, and not rush into a decision that they'll change later. This follows last year's saga of Nu'Keese Richardson, who committed to Florida, then was snake-oiled away by Lane Kiffin. Speaking of the Pahokee boys, DT Antonio Ford plans to visit Michigan next month. And let the Pahokee fluff keep on coming, as Sam Webb discusses Michigan's connection to the tiny Florida town in the Detroit News. Included is a scouting report of LB Zachery Allen:
"The thing with Allen is upside," Vogt said. "More and more schools are intrigued by him. Right now, he's maybe a little bit undersized for the positions that colleges are recruiting him for, but he has an outstanding frame, he can run, and he's very physical at the point of attack. He's one of those players who projects well at the next level because when he gets into a college weight training program they are going to sculpt him. He's going to be an outside linebacker at 6-2, 230 that can really get after it."
…and the information that Michigan probably has a good chance with Noel, DT Richard Ash, Allen, and even Dunkley.
General defensive recruiting fluff by Josh Helmholdt in the Free Press. Of note: the Wolverines lead for PA CB Cullen Christian and FL CB Rashad Knight still.
Michigan has offered NC S Keenan Allen. He hails from the same high school as DT prospect Gabe King (though King will not be eligible to participate this fall). They have also offered another teammate, 6-6 LB Chris McCain, according to the article.
Michigan zipped an offer to OH S/Ath Bobby Swigert (info in header). It's one of his first high-BCS-level offers, along with Pitt and Colorado, and the Wolverines are looking to figure prominently in his recruitment.
Michigan has offered TX S Marquis Flowers (info in header).
MD S Lorenzo Waters plans to make a visit to Ann Arbor this summer (info in header).
FL CB Lorenza Wood has a list of four favorites: Notre Dame, Michigan, Stanford, and Ole Miss. Michigan was his heavy favorite early in the recruiting process, but a visit to South Bend has changed the wind. After chatting with Notre Dame DC (and former Wolverine DB) Corwin Brown, the Irish are now considered to be on top. Wood plans to decide in July.
Re-removed MD CB Louis Young, who reaffirmed his commitment to Stanford. Young had stated that he was interested in other schools earlier this spring, but now says he'll stick with the Cardinal.
And in class of 2009 news, The Big House Blog brings the scoop on a new walk-on punter who plans to enroll in Ann Arbor this fall. Kristopher Pauloski, from Indianapolis Pike High School was first-team all-area last year.
Posted under Football, Recruiting
Tags: 2009, 2010, aj derby, bobby swigert, chris dunkley, chris mccain, corwin brown, cullen christian, dejoshua johnson, devin gardner, fred pickett, gabe king, jerrell priester, keenan allen, kristopher pauloski, lorenza wood, lorenzo waters, louis young, malcolm jones, marquis flowers, merrill noel, nukeese richardson, rashad knight, richard ash, robert bolden, zachery allen

Comments are closed.
More Blog Post