Pushed back a day because I didn't have internet available over Memorial Day weekend. I've also fallen behind in actually updating the board, so look for that to be rectified in the coming days.
2010 Michigan Recruiting Board.
TN QB Barry Brunetti is focused on Penn State, West Virginia, and Mississippi State. He's a little further down Michigan's QB board, as the Wolverines haven't offered yet. However, if Michigan's other options start falling through, he could be an option down the road – if he doesn't make a decision before that point.
FL QB Jeffrey Godfrey is taking an extra courseload so he can enroll early at the school of his choice.
OK QB/WR DeMarco Cobbs has a top 10 list, and Michigan is not on it. He says it's not firm quite yet, so I won't remove him from the board, but he's teetering pretty close to removal. He has stated he wants to play WR in college, so Michigan's opportunity at QB is probably not a huge draw for him.
Absolutely non-informative recruiting fluff about AR RB Michael Dyer. When the entire article is simply asking questions like "What are the chances this five-star recruit will be lined up behind Tyler Wilson or Ryan Mallet for the Arkansas Razorbacks?," you just don't have enough material to write an article, dude. The least you can do is include a scouting report or an interview with the kid.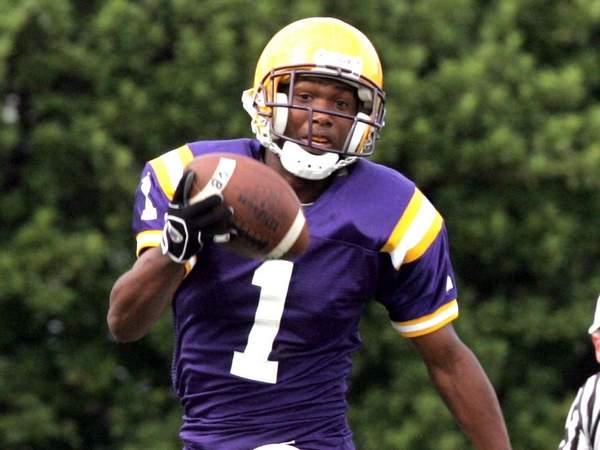 LA Slot Trovon Reed is starting to plan out his summer visits – and Michigan isn't on the list at this point (Florida, USC, LSU, and Oregon are). With Drew Dileo and Tony Drake already committed, have the Wolverines missed out on their opportunity to land a top-flight slot like Reed? I've discussed this recruiting method recently, and though there's no indication the Wolverines would have been a major player for Trovon, it certainly doesn't help that there's apparently no room for him. Reed is part of the planned mega-package including TX RB Lache Seastrunk, and not having any spots available for superstar prospects may be a troubling sign for this class. Speaking of Seastrunk, he performed well in his high school's spring game.
Speaking of top-flight running backs, SC RB Marcus Lattimore has definitely backed off his claim that Michigan was definitely in his top 5. His current top five consists of Auburn, Florida State, Georgia, North Carolina, and Penn State (in order). No word on whether he still plans to take an official visit to Michigan for the Ohio State game in November.
Tennessee-tilted fluff on FL OL Torrian Wilson. It's odd that they mention Michigan as "among his top schools" when he's said in no uncertain terms to national recruiting reporters that Michigan is certainly his #1 school, but whatever. Wilson plans to visit some of the schools he's interested in this summer (he already visited Michigan for the spring game), and he might be making an early decision.
Michigan has been in contact with FL OL Perry Meiklejohn, according to Phil Kornblut. Though the Wolverines haven't offered yet, he may be somebody to watch down the road. Also interesting from that article: read from the top, regarding how coaches can affect the star rankings of certain prospects. I wouldn't say it's evidence to completely ignore star ratings, but it's definitely enough (alon gwith other factors) to prompt me to take them with a grain of salt.
PA DT Sharrif Floyd is now hearing from the SEC. He's tied for 4th among defensive tackles to Rivals. In a down year for talent at the position, and a year of major need for the Wolverines at said position, Floyd is probably one of their top targets along the defensive line.
Speaking of needs at DT, there's a decent in-state prospect in Jonathan Hankins. This fluff article is (understandably) State-slanted, and it sounds as though both Michigan and Michigan State are planning to offer if he has good performances at their respective summer camps. one thing to keep in mind: he's a teammate of 5-star OLB prospect William Gholston, and according to the article, the two are pretty good friends. Gholston will attend the Big House BBQ (info in header).
Fluff with video on FL DE/DT Corey Lemonier. His current top-4-ish substance does not include Michigan, and it seems that they aren't heavily pursuing Corey at all. He does list early playing time as one of the key factors in his decision.
Quick scouting report on NY DE Dominique Easley, who holds a Michigan offer.
FL LB Christian Jones continues to assert that he is not a Florida State lock (though that may be lip service to some of the other schools recruiting him). What I hadn't previously realized about him: his team last year was terrible. It's certainly not a reason to not recruit a talented kid, but there is certainly a school of thought out there that recruiting players from programs that are successful year after year (Muskegon, Massillon Washington, Pahokee, Miami Northwestern) brings in players who are ready to win, and used to winning. It also means it's more likely that there are players from the school in future classes for establishing pipelines.
OH LB/S Kurtis Drummond, a high school teammate of RB prospect Andre Givens, is planning to make a visit to Michigan for the Big House BBQ (info in header). I've added him to the board.
FL S/CB Lamarcus Joyner hasn't mentioned Michigan at all lately, and it seems as though he's narrowed down his list of possibilities to Ohio State, Florida, Florida State, Georgia, Tennessee, and USC. One more article indicating a narrowed focus should be enough to completely remove him from the board.
Springtime means track updates!
OH WR/DB commit DJ Williamson excels on the track, not that the Youngstown Vindicator finds us worthy of knowing the actual times:
Deaver Williamson topped the field in both the 100 and 200…

The Raiders' 4×100 and 4×200 (meet record) relays had the top times and featured Logan, Seawood, Threats and Williamson — the same group that competed at the prestigious Penn Relays earlier this season.

"We did what we expected to do today," said Williamson. "The heat and the wind and having the back-to-back races made it tough, but we just kept our minds straight and had a good attitude for our races.

"We really want to win state in the 4×100 this year. It was really crazy at Penn, running against the Jamaicans and I think we surprised ourselves a little bit [fourth in the big school division]. We'll have some good competition next week, so we need to keep our No. 1 spot."
PA Slot Receiver Alex Kenney logs a 10.67 100m time. He also plans to commit before his senior season – and embraces rastafari ideals… uh… maybe he'll fit in well at Penn State?
CA S/WR Robert Woods runs a 47.31 and 21.43 in the 400 and 200m, respectively.
2009 OH RB Commit Fitzgerald Toussaint wins the 100m and 4×100, and comes in second in the 200m – all on a hurt wheel. The 100m time was a 10.96, despite the injured hamstring.
The Wolverines have added another class of 2009 walkon, Joe Reynolds from Rochester Adams. Reynolds will attend Michigan on track scholarship, but has also been invited to participate as a wide receiver for the football team. He caught passes for 700 yards and 9 touchdowns as a senior at Adams.
Removals…
OH TE Alex Welch commits to Notre Dame.
CA OL Matthew Jakubiec commits to Arizona.
FL CB Derek Owens has reiterated that he will be a package deal with his teammate and friend, WR Marquel Wade. Considering Michigan is in pretty good shape with a number of DBs (including fellow Floridian Rashad Knight), and they are certainly not in the market for more WRs except for maybe top-flight guys who can play multiple positions, I've made the executive decision that both Owens and Wade are removed from the board.
Posted under Football, Recruiting
Tags: 2009, 2010, alex kenney, alex welch, andre givens, barry brunetti, christian jones, corey lemonier, demarco cobbs, derek owens, dj williamson, dominique easley, drew dileo, fitzgerald toussaint, jeffrey godfrey, joe reynolds, jonathan hankins, kurtis drummond, lache seastrunk, lamarcus joyner, marcus lattimore, marquel wade, matt jakubiec, michael dyer, perry meiklejohn, rashad knight, robert woods, ryan mallett, sharrif floyd, tony drake, torrian wilson, trovon reed, tyler wilson, william gholston

Trackbacks
More Blog Post