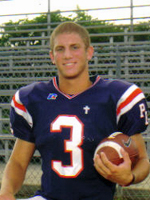 2010 Michigan Recruiting Board
Moved LA Slot/RB/Ath Drew Dileo to committed. Also, it is kinda a sad snapshot of SEC recruiting when the following sentence has to be included in the commit article in the local paper for a Louisiana player:
A Class of 2010 commitment who projects as an academic qualifier, Dileo committed to Michigan with offers from Stanford, Tulane and Rice.
Also: look at that offer list (Northwestern had offered as well). Of course he's going to meet the minimum NCAA requirements. So, yay for upping the team GPA. Also: he plays baseball for the equally excellent Parkview baseball team, the reigning state champs. The current wisdom is that he'll end up at slot. In the commitment post, I promised a more informative update, so here goes:
In his junior season, Dileo rushed 102 times for 760 yards (7.45 ypc) and caught 21 passes for 315 yards (15.00 ypc). However, it was in the return game that he excelled the most. He took four kicks back to the house, and was named 1st team all-district in that capacity. As I mentioned on Thursday, he was the team's MVP in their state title game his sophomore year. The esteemed Brian of MGoBlog has found a more comprehensive highlight of that game for your viewing pleasure (Dileo is #3 for the blue guys, and can be seen mostly catching the ball):

Yay for the informative update.
Sam Webb recruiting fluff in the Detroit News regarding Michigan's chances with FL QB Christian Green. He's long been regarded as a Florida State semi-lock (to play WR):
"A lot of my family came through Florida State," Green explained. "My mom graduated from Florida State. So did my cousin (former NFL wideout E.G. Green), my uncle, and a lot of people I know. So I grew up a Seminole fan. I feel real comfortable with the coaching staff. When I go up there I feel like it's a down-to-earth environment. It is a family environment and I feel real comfortable with a lot of people. That's one of the reasons I think it is No. 1 on my list so far."
, but the Wolverines aren't out of the race for him:
"My cousin Sam Sword played for Michigan back in '96," Green said, referring to the former standout linebacker. "He talks about Michigan every single time we have family together at a BBQ or reunion. He's always saying something about Michigan and just gets Michigan Wolverines in my head.

"I've known about them for a little bit now," Green added, laughing.
He also has a connection to the Michigan staff, as Calvin Magee is a coach emeritus there. There's a ton more information in the article about his recent visit to Ann Arbor, so I'd say it's definitely worth checking out.
A recruiting update on the gentlemen from Byrnes, SC, including RB Marcus Lattimore:
This much is clear for right now: Auburn still leads for his services… But really no school can be counted out. Not the Tigers or the Noles. Not Georgia, which Lattimore says he will definitely visit officially. Not North Carolina or South Carolina or Clemson. Even Penn State and Michigan still are in the mix along with others.

Under Armour All-American Corey Miller and fellow defensive lineman Brandon Willis, both from Byrnes, could end up in Garnet and Gold. In fact, the chances of that happening are more likely than not, at this point.
Things don't look rosy for any of them, and I hadn't been previously aware of the strong Florida State lead for the two non-Lattimore players.
An oversight on my part: last Monday, Sam Webb talked a bunch about OH RB Andre Givens on the recruiting roundup. Givens has been offered, and has a friendly rivalry in football and track with 2009 Michigan signee Fitzgerald Toussaint (Fitz is allegedly a bit faster in the 100m). Toussaint is trying to convince Givens to commit to the Wolverines, as he's apparently unaware of the plethora of RBs over the past couple classes.
IN RB Roderick Smith is still talkin' Buckeye commitment. He says he probably won't make an announcement until July, or maybe even after his football season, but Michigan doesn't seem to be involved at all. Since the Wolverines have a big back (Stephen Hopkins) in the class already, Smith is not a likely Wolverines target, and I've removed him from the board.
Palm Beach Post columnist/blogger guy Ben Volin says:
Rumors are swirling that Atlantic WR James Louis is close to committing, as well as Treasure Coast LB Jeff Luc and Royal Palm Beach WR Chris Dunkley, three players that have had positive visits to Gainesville in the past month.
The Louis news has indeed been swirling for quite some time, and Dunkley has long been considered a near-lock to the Gators. However, the news on Luc is neither encouraging nor surprising. If those three do indeed commit to Florida, that would give the Gators on hell of a start to their 2010 recruiting class. Go Gator.
Removed MD WR Adrian Coxson, who committed to Penn State.
OH TE Alex Welch has received a Michigan offer (info in header).
Some fluff on IL TE CJ Fiedorowicz, primarily focused around the fact that he'll be featured on a Sports Stars of Tomorrow episode in the fall. He has also expanded his favorites list to include Wisconsin and Notre Dame (previously, it had just been a top 2 of OSU and Iowa). The quote from CJ in the article indicates that he's already feeling a bit burned out by the recruiting process, so might a decision come sooner than expected? I certainly wouldn't be surprised.
The Wolverines sent a coach into the school of MN OL Seantrel Henderson. No word on the effect of the visit, but with the Evaluation Period underway, expect them to be making lots of high school visits (to coaches, not players) around this time of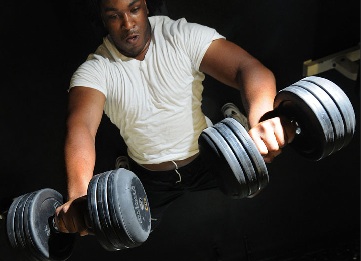 year. Regarding Henderson, there's a pretty significant fluff piece on him in the Pioneer Press.
"At times it gets irritating, but I know this is something I have to go through," Henderson said. "I won't make my announcement until February."

The first day football recruits in the 2010 class can sign a national letter of intent is Feb. 3, but players can give oral commitments before that date.

In the meantime, Henderson and his family have set up a tentative game plan to help manage the process. By the end of the summer, Henderson will settle on a top 10. After he takes his maximum five official visits in the fall, he will trim the number to three.
Michigan is fairly consistently listed among his top 10-ish, and he plans to make another visit to Ann Arbor this summer, so Michigan is looking pretty good for now.
Last Thursday, I speculated that PA DE/LB Jordan Paskorz had been favoring Michigan. In that day's recruiting roundup, Sam Webb revealed something very interesting: Michigan is indeed near the top of his list, and the Wolverines have now offered Paskorz.
MD LB Josh Furman has Michigan near the top of his list, and he also does fast things, running a sub-11.0 100m dash. That is wicked fast for a linebacker. Here's a bit of ESPN fluff on Furman. Sounds very good:
He posted a wind-aided 4.39 40-yard dash, a 42 inch vertical jump, a 4.12 short shuttle and a modest broad jump of 9 feet, 8 inches. His 16 reps of 185 pounds were also very impressive and a bit surprising given his longer, rangier frame (6-foot-2, 192 pounds). While he did look a bit lean, his great wingspan and overall body length suggest continued physical development. We believe he will eventually have a well-developed frame that will tip the scales in the 225-pound range while he'll maintain the great quick-twitch burst and speed we saw Friday night.
Lacking technique, but a physical specimen that can develop into something wicked in college.
MD LB Troy Gloster has narrowed his list of schools to a top five that includes Michigan (info in header). Also included are BC, UNC, Stanford, and West Virginia.
The high school coach of OH LB Jewone Snow thinks he's getting close to an offer:
"Michigan is looking at all three of those players," Johnson said. "They haven't offered Jewone yet, but I believe they're getting close. Stevie is a formality on Sept. 1."
"Stevie" is 2011 DE Steve Miller, who will probably be the top player in Ohio next year (likely battling OSU lock QB Braxton Miller). He visited Michigan earlier in the spring with Snow, and the Wolverines are expected to be in his early top 2, along with the Buckeyes.
Track times galore in spring recruiting updates! Denard Robinson, Adrian Witty, 2010 RB Cassius McDowell, and some other guy from their school are quite speedy indeed. Very speedy, sir.
Posted under Football, Recruiting
Tags: 2009, 2010, adrian coxson, adrian witty, alex welch, andre givens, brandon willis, braxton miller, cassius mcdowell, chris dunkley, christian green, cj fiedorowicz, corey miller, denard robinson, drew dileo, fitzgerald toussaint, james louis, jeff luc, jewone snow, jordan paskorz, josh furman, marcus lattimore, roderick smith, seantrel henderson, steve miller, troy gloster

3 Comments so far
More Blog Post