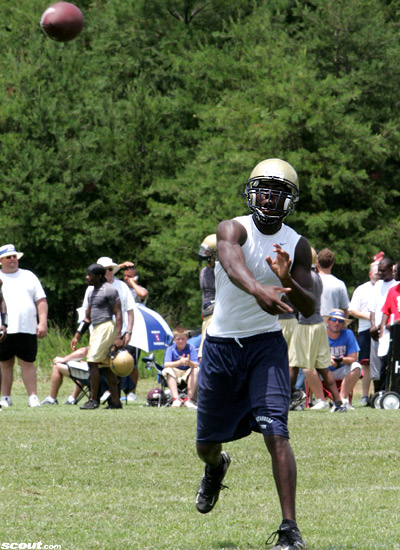 GBW and TheWolverine are both reporting on their front pages that South Carolina QB/Athlete Cornelius Jones has pledged his word to become a Michigan Wolverine. Jones hails from Spartanburg HS in Spartanburg, SC, and is Michigan's 14th public commitment in the class of 2010. The signal-caller stands 6-2 and 190 pounds.
Recruiting Notes
Aside from the obvious prospects like Devin Gardner, Jones was one of the first players to enter Michigan fans' collective radar for the class of 2010. Despite not playing football his freshman or sophomore year, apparently due to a disciplinary issue (or problem with the previous coaching staff; it's never really been cleared up, Jones's highlight tape from a spring scrimmage found its way into the hands of Michigan's coaching staff. Rich Rodriguez and company liked what they saw, and extended a verbal offer (which the Detroit media, in full anti-Rodriguez mode at the time, spun to indicate that Rod was clueless or something). As it turned out, the offer did not come through at that time, but Michigan offered him in January, and was still among his first offers. It was that early interest that helped Michigan stay in the forefront of his recruitment, as the Wolverines led wire-to-wire. Jones always maintained that he was trying to work out a visit to Michigan, and that visit eventually ended up taking place for the Wolverines' 2009 summer camp. At that time, he realized Ann Arbor was the place for him, and he committed to don the maize-and-blue.
Player Notes
Jones is a dual-threat quarterback in the same mold as Devin Gardner, who can really hurt you with his feet, and has some improving to do in the passing game (certainly understandable for a high school junior). Jones isn't quite the physical specimen that Garnder is, but might be a slightly better passer at this time. That's an exciting prospect for Michigan fans, as he's only played football (and quarterback) for one year thus far! With further coaching at both the high school and college levels, he should blossom into a true threat in both phases of the game.
Posted under Football, Recruiting
Tags: 2010, commitments, cornelius jones

3 Comments so far
More Blog Post