Somewhat brief update today after the blitzkrieg of news last week. 2010 Recruiting Board.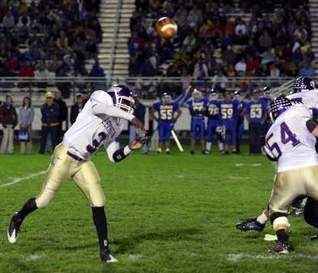 Moved to committed:
OH CB Courtney Avery, onetime Stanford commit. Commitment post. Michigan offered him Thursday, and he committed Saturday. He's seen at left tossing the rock as a highly prolific HS QB.
Michigan doesn't seem to be high on the list of FL RB Roy Finch anymore. Oklahoma and Stanford appear to be his top two choices at this time, though he maintains that he is still open to everyone. Finch plans to make a commitment before his high school seaso kicks off.
FL WR Kenny Shaw, the former high school teammate of Ricardo Miller at Dr. Phillips High School, is still favoring the Florida State Seminoles. He's had them on top for quite some time, and is expected to end up in Tallahassee.
Removed NC WR Anthony Creecy, who committed to NC State.
FL OL Torrian Wilson visited Michigan last week for a pretty long stay. I don't expect him to make a decision any time soon, but it does appear a though the Wolverines are still in a pretty strong position.
SC OL Eric Mack seems to be heading towards a commitment to South Carolina. In nearly every article, he mentions that he's excited at the prospect of playing with several of his former teammates, should he choose the Gamecocks. Still, Mack intends to wait until Signing Day before making a decision, so schools will have plenty of time to get back into his recruitment.
Removed OH OL Dakota Anderson, who committed to Ball State.
MI DT Jonathan Hankins came to Michigan's summer camp looking to ern an offer from the Wolverines, and prove that he was getting his body into good shape. However, as Sam Webb reprts on the WTKA recruiting roundup, Hankins' conditioning was still not what the Wolverine coaches were looking for, and he might have to keep waiting to maybe earn that offer.
SC DE Brandon Willis from Byrnes (the same school as 5* RB Marcus Lattimore) will be releasing a top 5 list sometime this week. Neither Clemson nor South Carolina will be on it, and though I'd be moderately surprised if Michigan makes his final 5, the Wolverines did get a shout out in the article, which means there's maybe a slightly better chance than I give them credit for.
FL CB Lorenza Wood will announce a decision on Friday between Michigan, Notre Dame, and Georgia Tech. Though he was once a Michigan lead, conventional wisdom now has him committing to the Irish. He also has a ridiculous plan for his commitment:
Apopka cornerback Lo Wood's father — Lo Wood Sr. — told the Sentinel on Tuesday night (June 16) that his son will make his college football commitment on June 26, and he won't know who it will be until his son tells him the night before.

At that time, Lo Jr. and Lo Sr. fly to the city of the school of the younger Woods' choice, and they make the announcement on campus.
Having fun buying plane tickets on, like, an hour's notice.
Removed FL CB Lamarcus Joyner, who has officially narrowed his list of suitors to Ohio State, Florida State, Florida, Georgia, Alabama and Tennessee.
MI P Mike Sadler and FL P Brandon Tarpley each excelled at Michigan's kicking camp over the weekend. If Michigan looks to extend an offer to a kicking specialist (which they probably will with Zoltan graduating after 2009) it will probably be one of these guys. I won't add them to the board, because there's not a listing for punters on it.
In a bit of 2009 news:
Incoming freshman RB Fitzgerald Toussaint participated in the Annual Big 33 Classic, in which he helped lead his Ohio team to a 38-31 victory over Pennsylvania. Toussaint, Michigan's only commit playing in the game, caught 1 pass for 54 yards and a touchdown, and ran 4 times for 11 yards, including a 6-yard touchdown.
Posted under Football, Recruiting
Tags: 2009, 2010, anthony creecy, brandon tarpley, brandon willis, courtney avery, dakota anderson, eric mack, fitzgerald toussaint, jonathan hankins, kenny shaw, lamarcus joyner, lorenza wood, mike sadler, roy finch, torrian wilson

3 Comments so far
More Blog Post