Removed SC QB Dylan Thompson. The signal caller (who actually hadn't seen much interest from the Wolverines) committed to South Carolina.
MI WR Marcus Beaurem out of Sterling Heights Stevenson was impressive at Michigan's camp, and was able to earn an offer from Central Michigan last week. Then, he committed to… Bowling Green? yesterday. Kind of a weird whirlwind recruitment.
Removed FL WR DeJoshua Johnson. The Pahokee product and prototypical slot receiver committed to Florida State.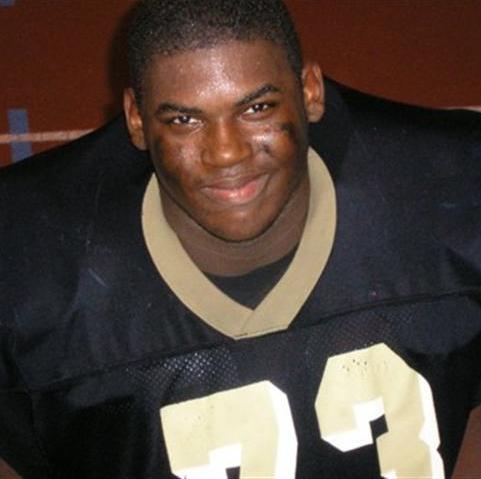 Fluff on PA DT Sharrif Floyd. It's the type of article that really reminds you that, these aren't just football players, they're kids whose lives hang in the balance:
"I was always frustrated at a young age, but growing up in a bad situation, there are only two ways you can go, run the streets and sell drugs, or go another way and do something with your life," Floyd said. "I grew up in a drug environment. I grew up around all of that stuff. I've had people I grew up who were locked up, some of them were shot and killed. After one of my friends died, I stayed away from a lot of things after that."
Regardless of where this kid ends up, it's hard to wish him anything but the best of luck in coming out of a bad situation and making something of himself. Floyd will announce his decision at the Army All-American Bowl.
Sam Webb Freep fluff on OH DT Jibreel Black. His final 5 list consists of Michigan, Michigan State, Cincinnati, Kentucky, and Indiana (where his older brother is a defensive lineman). He grew up a Michigan fan, and though that's the only campus he's not visited on his list, the Wolverines have a chance because of that distinction.

DC LB Javarie Johnson has reached a decision on his college destination, and will announce that information this week (info in header). The week is almost over, so I assume that announcement is forthcoming soon. Remember, Johnson is the one who was so enthused about his Michigan visit that his coach thought he had committed to the Wolverines. Still, it's been a while since he has been to Michigan, and though the Wolverines are featured on his recent top 4 list, I would be mildly surprised if he picked Michigan.

Added GA S Detrick Bonner. The safety from Leulla, GA has been offered by Michigan, and currently says he's favoring the Wolverines. He also likes Clemson.
Removed FL CB Merrill Noel. The Pahokee Blue Devil committed to Florida State.
Removed GA CB Jonathan Mincy, who committed to Auburn.
Removed FL CB Cody Riggs, whose final list of 5 includes Notre Dame, Florida, Florida State, Georgia, and Tennessee.
FL CB Lorenza Wood, who was once a strong Michigan lead, is expected to pick Notre Dame tomorrow. If that does indeed happen, he'll be removed on Monday.
Two more prospects that can probably be crossed off the list: GA LB Tyrone Cornileus, who is likely headed to Miami of Florida, and DT Mike Thornton, who will pick between Georgia and Georgia Tech soon.
In your occasional 2011 mention, quarterback Christian LeMay from North Carolina has been offered by Michigan (info obvious from header). He joins OH QB Braxton Miller, a likely OSU lock, as the offered quarterbacks in next year's class.
Posted under Football, Recruiting
Tags: 2010, 2011, braxton miller, christian lemay, cody riggs, dejoshua johnson, detrick bonner, dylan thompson, javarie johnson, jibreel black, jonathan mincy, lorenza wood, marcus beaurem, merrill noel, michael thornton, sharrif floyd, tyrone cornlieus

3 Comments so far
More Blog Post