2010 Michigan Recruiting Board.
PA QB Malik Stokes (younger brother of 2009 signee Je'Ron Stokes) visited Michigan for summer camp, and though he didn't leave with an offer, picked one up from the Chippewas when he continued to the CMU camp. Central coach Butch Jones is a former RR assistant, and if Stokes ends up selecting the Chippewas, both brothers will be in the state of Michigan together. Malik also has said that the Michigan staff will keep him in mind in case something happens with either of the existing commits.
Removed FL RB Roy Finch, who committed to Oklahoma. It will be interesting to see if this might have an effect on CA RB Brennan Clay, who is also committed to the Sooners. Obviously, Oklahoma has room for 2 running backs in the class, but Clay might be slightly turned off by another prospect (and a similar one at that) at the same position. Clay's Michigan ties to QB Tate Forcier may give the Wolverines chance to get back in the sweepstakes for his services.
FL WR Quinton Dunbar plans to take one of his officials to Ann Arbor. He also intends to visit West Virginia, Tennessee, and Florida. He won't make a comitment to any school until National Signing Day. (Photo courtesy of SoFlaFootball).
Be ready to remove PA WR Alex Kenney. ThaRinger.com reports on what is perhaps the least aesthetically-appealing website in history that Kenney will likely commit to Penn State early this week. This is not all that surprising, since Kenney is from State College and his parents reportedly work at PSU.
SC WR/DB Nick Jones visited South Carolina over the weekend along with his high school teammate, RB Marcus Lattimore. While Lattimore is likely long-gone for the Wolverines, Jones continues to list Michigan among his favorites.
MN OL Seantrel Henderson visits both South Carolina schools, and doesn't mention Michigan among his "offers that stand out" to Phil Kornblut.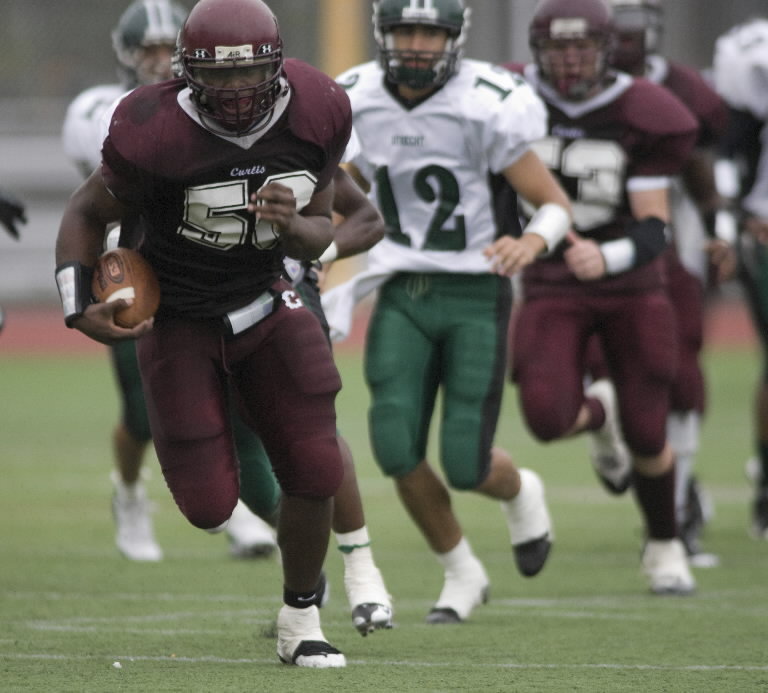 Recruiting fluff on NY DE Dominique Easley. The Wolverines are on his offer list, but he didn't offer up anything else about Michigan in the article. Easley, who plans to trim his current list of schools down to 5 or 6 by the end of the summer, is pictured at right.
MD LB Josh Furman will take one last visit this summer, to Michigan (info in header). He's already been to a few other schools, but Ann Arbor is the only visit he plans to take before his football season starts back up.
Georgia has secured a commitment from a teammate of FL LB Jeff Luc. LB Deon Rogers had mostly MAC-level offers… and Georgia saw fit to offer him and accept a commitment. This is likely only relevant to Michigan because of how it might affect the Luc recruitment. Even that has seemed to hit the back-burner lately, as Luc news hasn't been flowing as freely as it was earlier in the spring. Michigan is expected to be one of Luc's officials, and getting a top-ranked prospect on campus always gives the team a chance to land them.
OH LB Jordan Hicks has trimmed his list to 6, and Michigan is not among them. It was never particularly likely that the Wolverines would get into his recruitment, since he seemed to favor Ohio State, Texas, and USC very strongly from the start. I'll leave him on the board for now, since his teammate, TE Alex Smith, seems to have a pretty strong interest in Michigan (Duane Long ruminates on his likelihood of getting a Buckeye offer, as well). However, don't expect Michigan to have a great chance at Hicks.
Removed FL LB Javarie Johnson, who committed to Miami of Florida over the weekend.
MD S Lorenzo Waters has received a Miami of Florida offer. At this time, he appears to be favoring Wake Forest, Michigan, and the Hurricanes.
Removed GA S Alec Ogletree, who committed to Georgia.
Removed FL CB Lorenza Wood, who, as predicted, committed to Notre Dame on Friday.
Posted under Football, Recruiting
Tags: 2010, alec ogletree, alex kenney, alex smith, brennan clay, deon rogers, dominique easley, javarie johnson, jeff luc, jeron stokes, jordan hicks, josh furman, lorenza wood, lorenzo waters, malik stokes, marcus lattimore, nick jones, quinton dunbar, roy finch, seantrel henderson, tate forcier

4 Comments so far
More Blog Post