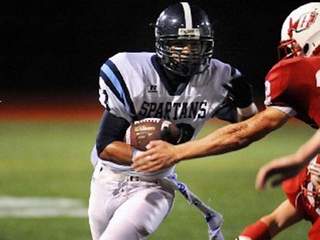 Moved to committed: MI RB Austin White, who announced for the Wolverines yesterday. Commitment post. Sam Webb had an interview with Austin on WTKA.
SC QB Commit Cornelius Jones has been shining on the 7-on-7 circuit:
"Conelius [sic] made some phenomenal throws," Brown said. "Defensively, Coach (Mark) Razzano made some good calls in tight situations, and the kids made some big plays with games on the line."
The Spartanburg team finished second to Byrnes, the powerhouse school with such Division-1 prospects as Marcus Lattimore, Nick Jones, Brandon Willis, and others. Local news provided a bit of video:
Hopefully, the success for the 7-on-7 team bodes well for Spartanburg's season (though the vikings finished second to Byrnes last summer as well, and still only managed 5 victories in the fall), and eventually Jones's ability to move up in the rankings. By the way – there seems to be mounting evidence that there's no "r" in Jones's first name.
Speaking of studly QB commits, MI QB Devin Gardner has been named to the Elite 11 camp. Gardner headlines the list of 3(!) players from the Great Lakes State participating, joining MSU's Joe Boisture and PSU's Robert Bolden.
Removed TX QB Aaron Johnson, as his favorites are OU, TCU, and Houston. It doesn't appear Michigan is interested, and he clearly wants to stay closer to home.
Removed AL QB Trett Hardman. He's listed as a pro-style QB by the recruiting services, and I'm really stretching for reasons to get some of these guys off the board who quite obviously aren't going to end up in Blue.
Super fluff on LA Slot Commit Drew Dileo. Highlights:
"Of all the coaches that came through," Parkview assistant David Simoneaux said, "Michigan was the most aggressive. They said they just had to have him."
This likely means that Michigan's coaches see something in Dileo that the recruiting sites may not. That would continue a trend of the Wolverines'
coaching staff valuing different things than Rivals and Scout, leading to possibly underrated class rankings.
Slot receivers in a spread offense are usually matched against linebackers or safeties. They receive the ball in a variety of ways, including handoffs and lateral passes.

In their evaluation of Dileo, Michigan's coaches saw the perfect fit.

They saw a tough player with sure hands who could make catches over the middle. They saw a versatile, explosive player who could make defenders miss, as a runner or receiver.

"He ([RB coach Fred] Jackson) told us Drew reminds them of Wes Welker," Simoneaux said.
Brief scouting reort that is basically what we've come to expect from these guys. For added fun, insert "white" prior to every use of the word "player!" Also, obligatory white-slot-to-Wes-Welker comparison.
"I know my profile isn't as great as a lot of other kids' around the country," he said. "I know (Michigan) reached out there a little bit to get me. It's not about proving anybody wrong. I just don't want people up there to feel like I wasted a scholarship."
That's a pretty tame quote, considering the context. I'd much rather have him say something along the lines of "It's not about proving anybody wrong, it's about kicking ass and taking names." There's also mention that Dileo has always worn #3, which Justin Feagin currently rocks for Michigan.
Removed PA WR Alex Kenney, who committed to Penn State.
MN OL Seantrel Henderson doesn't have a visit to Michigan in his plans. The recruitment of Henderson is starting to get weird, as there is alternating "Michigan and USC lead" talk interspersed with "Michigan is in his top 10, but not any higher than that"-type speak. Henderson has already visited Ann Arbor once, so perhaps he's using the officials as a way to see places he's never been? As a side note, Seantrel himself has said he's no longer interested in Notre Dame, but his father says they're right near the top. Maybe his dad just isn't attuned to the evolving list of favorites.
Removed OH OL Andrew Donnal, who will become a Hawkeye.
In the ongoing search for at least one defensive tackle in this class, GA DT Michael Thornton will give the Michigan coaches a chance to woo him. Thornton plans to officially visit Michigan sometime this fall (info in header).
Removed OH DT Josh Davis, who committed to Purdue.
Removed CA DE Ronald Powell, who will pick between USC and Florida sometime in January.
Removed SC DE Dexter Morant, who committed to Georgia.
Fluff on FL LB Jeff Luc, who has only recently started lifting weights. Stats:
Luc registered 119 tackles, nine sacks, two interceptions, five forced fumbles and had four pass break-ups in 2008.
He says location does not matter in his college choice, and is in no hurry to make a decision – though he does plan to enroll in January.
Removed TX LB Corey Nelson. He briefly had Michigan as a leader, then said he would visit Ann Arbor despite not having the Wolverines in his top 5, but now the teammate of RB Commit Tony Drake has committed to Texas A&M. If he continues talking about taking visits to school's he's not interested in, Nelson may be able to find his way back onto the list.
OH S Latwan Anderson has Michigan State and West Virginia in his top 2. Michigan is not far behind, but it seems as though the Mountaineers are a pretty heavy favorite. Might a year of PAIN under inept headman Bill Stewart sour him on Morgantown?
ESPN's Bill Kurelic predicts that Michigan will land both PA S Brandon Ifill and PA CB/S Cullen Christian, teammates at Penn Hills High. Christian has been an assumed Michigan lock for quite some time, and Ifill has had Michigan near the top of his list, though perhaps not in the leader's position. Ifill will visit Ann Arbor at the end of this month, and if he enjoys himself, it's conceivable that he could verbal to Michigan.
FL CB Spencer Boyd is deciding Friday between Notre Dame, Michigan, and Georgia. He hasn't been at the forefront of Michigan's recruiting effort lately, so expect him to pick one of the other options (I believe Notre Dame is the leader). Looks like things are heading towards a removal from the board in the next update.
Posted under Football
Tags: 2010, aaron johnson, alex kenney, andrew donnal, austin white, brandon ifill, brandon willis, corey nelson, cornelius jones, cullen christian, devin gardner, dexter morant, drew dileo, jeff luc, joe boisture, josh davis, latwan anderson, marcus lattimore, michael thornton, nick jones, robert bolden, ronald powell, seantrel henderson, spencer boyd, tony drake, trett hardman

1 Comment so far
Trackbacks
More Blog Post