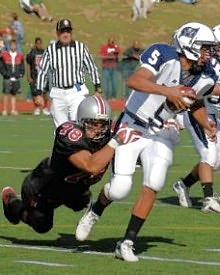 | | | | |
| --- | --- | --- | --- |
| Princeton, NJ | Defensive End | 4 Star | 6'6″/260lbs/4.65sec |
Player Notes:
LaLota is something of an oddity, in that early on, both recruiting services ranked him at offensive tackle, and both gave him five stars. Despite this ranking, LaLota insisted that nearly every school recruiting him wated him as a defensive end. Eventually, Rivals wised up and switched his position, dropping him to four stars in the process. Scout maintains that he is an offensive tackle, and they still give him five stars (and a #3 position ranking) as an offensive lineman. Rodriguez and company recruited LaLota at end, and that will likely be his final college destination. As a strongside defensive end, LaLota is more of a run-stuffer than elite pass-rusher. However, he is not particularly polished, and will likely add some finesse moves to his repertoire in college. One exciting thing about LaLota is that his game is all based on physical talent at this time. He has only been playing football for a couple years, and is loaded with potential upside.
Recruiting Notes:
Early in the process, Notre Dame was thought to be the prohibitive favorite for a verbal commitment from LaLota. With their three New Jersey commitments (including one from LaLota's high school teammate Tyler Stockton), and nothing but effusive praise for the Irish from LaLota, it seemed his recruitment could have come to an end as early as June. Michigan's offer came in June, and the Wolverines seemed to be an also-ran for LaLota's services. Near the end of July, LaLota narrowed his impressive list of suitors to seven, and the Wolverines made the cut, though they were still considered an underdog. Late in August, Sam Webb reported on WTKA that LaLota's decision would not be coming early, and that perhaps Michigan was stronger with Anthony than had previously been known, especially after the unofficial visit he had taken the previous weekend. LaLota also tentatively scheduled an official visit for the Wisconsin game. Then, this week, LaLota's recruitment came to a head. Michigan and Penn State emerged as his rumored top 2, with other sources reporting that he would either pick a Big East/ACC school or Michigan. When he scheduled his announcement for Friday night at 8, Michigan fans were cautiously optimistic that he would don a block-M cap. LaLota did indeed pick Michigan, and is the 17th commitment in the class.
Senior Year Stats
| | | | |
| --- | --- | --- | --- |
| Wyoming Seminary | – | – | – |
| Mercersburg | 5 | 2 | 406 |
| Penn Charter | | | |
| Lawrenceville | | | 252 |
| Blair | | | |
| Peddie | | | |
| Sayreville | | | |
| Hill | | | |
| Totals | 5 | 2 | 658 |
Highlights
1 Comment so far
Leave a Comment
You must be logged in to post a comment.