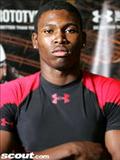 | | | | |
| --- | --- | --- | --- |
| Pahokee, FL | Linebacker | 3 Star | 6'0″/185lbs/4.72sec |
Player Notes:
May be considered slightly undersized for their positions, though Rich Rodriguez has focused on adding speed to the team first, and will likely worry about size and speed in future classes.  Hawthorne is probably going to end up as a weakside linebacker unless he has a pretty significant growth spurt. He will have to add a ton of mass to play linebacker, and hopefully he won't lose too much speed doing so in Mike Barwis's program.
Recruiting Notes:
Michigan fans first became aware of Pahokee High School when slot receiver Martavious Odoms joined the class of 2008 in February. They quickly learned of Odoms's younger teammates, including WR Nu'Keese Richardson (Florida commit) and Smith and Hawthorne.  At the end of July, the duo started dropping none-too-subtle hints that Michigan would be the choice for both Blue Devils. Towards the end of August, both Hawthorne and Smith announced that they had set up 5 official visits, though they still planned to announce on August 30th (an announcement that they subsequently moved forward by one day). With the final choice of Michigan, it is unlikely that they will have spots reserved for them in the class if they still intend to take officials to schools other than Michigan. The runners-up for Smith were Wisconsin, Minnesota, and Tennessee. finishing in second for Hawthorne was Louisville.
Highlights
Leave a Comment
You must be logged in to post a comment.