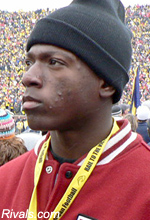 | | | | |
| --- | --- | --- | --- |
| Melvindale, MI | Wide Receiver | 3 Star | 6'3″/190lbs |
Player Notes:
Gordon is a big, physical receiver, with large measurables for the position. He lacks elite speed, but is able to beat defenders, using his body well and catching it at the highest point with his biug hands. However, Michigan fans liked the physical play he could bring to a linebacker position at the next level. It will be interesting to see whether he remains at receiver when he gets to the next level, or at least be open to a potential position switch.
Recruiting Notes:
Gordon started the recruiting year as someone Michigan fans expected to likely end up in the Wolverines' recruiting class. However, it certainly ended up taking significantly longer than they expected (although he had always planned to take his time with a decision). At the end of his junior year, he announced that he would be transferring from Melvindale High School to Inkster, where he would have a better opportunity to excel athletically. During the summer, he attended Michigan's summer camp. The Wolverine coaches told him that they liked him more as a linebacker, and told him that he would receive an offer if he was willing to play at that position in college. With a noncommittal answer, Michigan's offer took significantly longer to arrive than Gordon would have otherwise liked. When he finally received his offer in November, Gordon took a visit to Iowa, who had been on him all along. However, the allure of the Michigan offer was too much to pass up, and he committed to Michigan today.
Senior Year Stats
Coming soon…
Highlights
Leave a Comment
You must be logged in to post a comment.