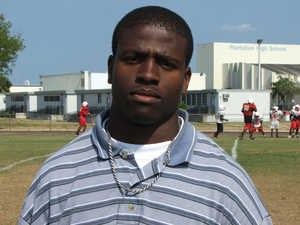 | | | | |
| --- | --- | --- | --- |
| Plantation, FL | Safety | 4 Star | 6'0″/187lbs/4.6sec |
Player Notes:
Emilien had a fairly impressive offer sheet prior to his commitment, and is known as a safety prospect who can play either position. He has good speed in the defensive backfield, and could excel under the tutelage of Mike Barwis. He has fairly good size as well, and will likely end up as a big run-supporting strong safety. Emilien has a good reputation of going 100% on every play, a good sign that he meets Rodriguez's all-important criterion of "loves football."
Recruiting Notes:
Emilien was offered at the beginning of May, though it seemed even at that time that he was bound for Ohio State. All indications from the beginning of his recruitment showed that he was a heavy Buckeye lean. However, the OSU class filled up fairly quickly, and there was no longer room for him in the class of '09. When Ohio State allegedly pulled an offer from one of their commitments following an off-field incident, it appeared as though Emilien's break may have come. However, he never committed to the Buckeyes, and after the Michigan State game official visit, the Wolverines may have taken over the top spot in his mind. Originally planning to announce yesterday, Vlad delayed his decision until today, and picked Michigan over Wisconsin, Ohio State, and Stanford.
Highlights
Leave a Comment
You must be logged in to post a comment.