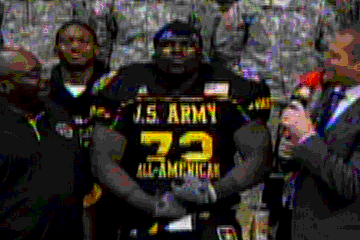 | | | | |
| --- | --- | --- | --- |
| Detroit, MI | Defensive Tackle | 5 Star | 6'5″/325lbs/4.92sec |
Player Notes:
Campbell is a physically dominating player who will need to work on his technique to become equally effective on the college level. He has extraordinary size, great brute strength, and surprising quickness. He is a two-way player in high school (even in all-star games), and has both the explosive first step to play tackle in college, and the intelligence and lateral quickness to move primarily to the offensive line. Whichever position he ends up playing, he will have to improve his technique. Campbell is currently in the midst of the Army All-American Bowl, where he has been one of the (few) consistent players.
Recruiting Notes:
Campbell originally committed to Lloyd Carr's Wolverines way back in the summer of 2007, before his junior season. When the coaching staff changed, Campbell reaffirmed his commitment to Rich Rodriguez. Despite that, he maintained all along that he would like to take official visits to other schools, if only to get out and see the world a bit. When other coaches (such as Pete Carroll and Les Miles) told Campbell that he could not visit their campuses if he was firmly committed to Michigan, Big Will rescinded his verbal commitment, and went on trips to Alabama, LSU, and Miami. On his official visit to Ann Arbor, Will rushed the court with Michigan students following basketball's upset win over the Duke Blue Devils. However, coming into Army All-American week, Campbell told the media that he was eliminating Michigan from consideration. In the end, that was all a smoke screen as Campbell donned the Maize-and-Blue cap in the third quarter of the All-American Bowl.
Leave a Comment
You must be logged in to post a comment.