Recruiting Boards can always be found on the left sidebar. 2009 & 2010
First things first: it's quite obvious that, this late in the recruiting process, there are only a few realistic prospects left on the board. There may be other guys that end up wearing the right colors, but it's more likely that they come out of the woodwork. So, a lot of prospects came off the 2009 board in the past week (unrealistic though some of them may have been). Let's review:
MS S/WR Dennis Thames. Mississippi State Commit.
TX CB Demontre Hurst committed to Oklahoma State, but may still visit the Canes.
FL DB Jonathan Scott picks WVU.
AL LB Tana Patrick is now only considering Bama, Auburn, USC, MIami of Florida, and Tennessee.
FL CB Jayron Hosley is going to USF, whether he has publicly committed (yet) or not.
CA OL Michael Philipp, who hadn't really been considering Michigan in quite some time, commits to Oregon State.
NC OL Travis Bond picked UNC over Michigan, adding to the ridiculously large recruiting class in Chapel Hill.
SC OL Quinton Washington is one of the few remaining targets that Michigan has a chance with. The Sporting News' The Recruitnik blog gives an entirely uninformative update on his recruitment. Phil Kornblut says he visits South Carolina, which is Michigan's main competition for his signature. Considering he came out of that visit not only uncommitted, but also unwilling to say USC was his leader, chances here don't look dire. However, he did leave the visit "knowing what he wants to do," which may be bad, considering it probably means "my last visit rulzed." Regardless, he does not plan to publicly commit until signing day.
LA LB Barkevious Mingo, who visited LSU this weekend, does not plan to commit anywhere until signing day.
LA WR Travante Stallworth is still "committed" to Auburn, but has a top 3 of Michigan, South Carolina, and Auburn. RichRod has his in-home tonight. Stallworth seems a little more effusive about Michigan than his other choices:
"At Michigan, it was different than any other college campus I've ever been to," he continued. "They have outstanding facilities and the academics are top of the line. Coach (Rich) Rodriguez wants me to come in as a slot receiver and even said I could try quarterback. If it didn't work out, I could switch to receiver. They just want to get the ball in my hands in the open field."
RR will also be in the home of DE Sam Montgomery, who has taken 2 officials without committing anywhere. He wants to go to business school, which means Michigan is by far the best option out of his current choices in that regard. He's still going to LSU, Tennessee, and Oregon.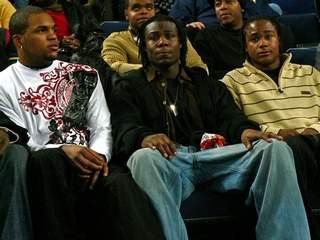 Freep fluff on the visit by PA WR Je'Ron Stokes (along with a general discussion of WR recruiting). If Stokes gets through his PSU visit without committing, Michigan's chances in this one aren't bad. Stokes didn't really appear to be enjoying himself too much at the hoops game though (photo of Darryl Stonum, Stokes, and Jeremy Gallon by Matt Pargoff in the Detroit Free Press).
Tennessee has hopped in on OK DT Commit Pearlie Graves. The likelihood he ends up in Ann Arbor is ever-dwindling.
FL QB Austin Dantin is practically begging for an offer, though if he's stooping that low this late in the process, that probably means he's unlikely to get one. He's added to the board regardless.
The Palm Beach Post ranked the area's top 25 seniors:
6. Brandin Hawthorne, LB, 6-1, 181, Pahokee, Enrolled at Michigan

8. Vincent Smith, RB, 5-9, 180, Pahokee, Enrolled at Michigan

11. Brendan Gibbons, K, 6-0, 215, Cardinal Newman, Verbal to Michigan
Hooray South Florida guys.
MI QB AJ Westendorp appears likely to accept a scholarship offer at a D-II or DI-AA school, rather than accepting a walk-on offer at Michigan.
…And this update is getting enormous, so I'll drop the 2010 knowledge on you later this week.
Posted under Football, Recruiting