Some things that didn't fit in Thursday's update is thrown in here as well, so it should be a JAM-PACKED! update. Here's the 2010 Michigan Recruiting Board.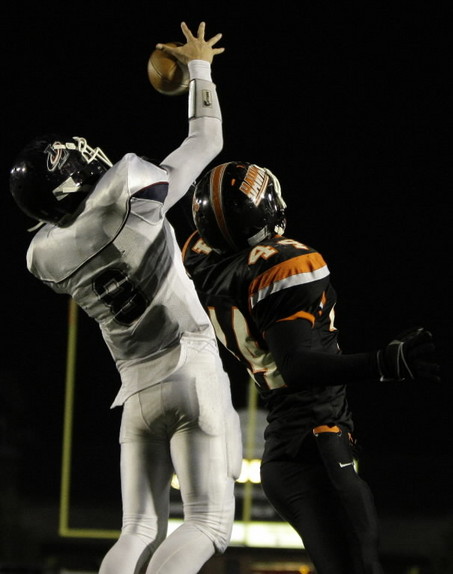 Super-non-informative article on the recruitment of PA QB Anthony Gonzales (#6). He's fast enough to play QB for his high school team, and is described as "slippery." Though Michigan hasn't offered yet, that certainly fits the description they're looking for in this class: a good second QB who can potentially change positions down the road if everything works out with the other players. There is no Michigan mention in the article, and Penn State is presumed to be the favorite by the author, with Pitt just behind. Still, if the Wolverines don't have a second QB committed by the time the season rolls around, Gonzales may be a candidate to pick up an offer.
LSU has jumped into the fray for IA QB/Ath AJ Derby (info in header). He is becoming a bigger and bigger prospect, which means he may be less likely to accept an offer to play second fiddle to Devin Gardner in the QB class of 2010. Of course, it's still highly likely he plays at Iowa, where his dad played. The Chicago Sun-Times's Second Season blog thinks it's Iowa or Florida for him.
Continuing the deluge of QB news, SC prospect Cornelius Jones has set up a summer visit to Ann Arbor (info in header). Smart money is on this visit happening for camp this week. Jones has had Michigan at or near the top of his list for quite some time now, so a good visit with the Wolverines might be enough to convince him to commit.
Removed MI QB Robert Bolden, who does not have the Wolverines on his list of 6 finalists. I'm not disappointed, because I still maintain that Bolden is more of a pro-style QB than a true dual-threat who would thrive in the Rich Rodriguez spread.
Fluff/brief recruiting info on FL RB Cassius McDowell from SoFlaFootball. McDowell is out for the spring with a broken leg, and has been using his newfound free time to pick up the pace with schoolwork, and enroll early in the fall at his school of choice. The teammate of 2009 signees Denard Robinson and Adrian Witty counts the Wolverines among his offers.
Removed FL RB Darion Hall, who committed to Miami. This is not a surprise. You may recall that I was not particularly stoked on Hall, especially considering he apparently has some maturing to do "on and off the field."
FL/MI WR Ricardo Miller has apparently changed his tune about which Ann Arbor-area high school he'll be attending, according to Sam Webb. Rampant speculation and semi-disturbing high school fantasy football leagues by Michigan fans have cluttered the interwebs this weekend, but the fact of the matter is, he's going to go to the school that gives him the best education and opportunity to succeed on the football field.
PA WR Andrew Carswell's continued interest in Michigan (they're in his top 3 with BC and Pitt) may be explained by the fact that he's a multiple-position player. If he ends up committing to Michigan (I still think it's something of a longshot at this point), he could end up playing linebacker on defense.
Removed MD WR EJ Scott, who committed to Virginia.
Removed AL WR Soloman Patton, now a Florida Gator.
In your latest breathless MN OL Seantrel Henderson update, a couple fun factoids that may play a role in his recruitment. First, new Gophers OL coach Tim Davis might send his son to Cretin-Derham Hall. That would certainly not hurt Minnesota for Seantrel (unless said son is a total d-bag, but I digress). Another interesting friend item on Henderson:
According to Lemming, Henderson may want to attend the same school as friend J.D. Pride, another Minneapolis-area player. According to Rivals.com, the only offer Pride holds is from Minnesota.
If the Wolverines ever offer Pride, a QB/Ath, it would certainly help their case. Also, maybe Pride could net an Eastern Michigan offer? That could still help the Wolverines land Henderson. I believe both Henderson and Pride are camping at Michigan, and Eastern's coaches traditionally head across town to take part.
Recruiting info on GA DT Jeff Whitaker, with nary a mention of Michigan. It sounds like he probably won't end up with an offer. With the Wolverines perhaps having less of a need for DTs in the unconventional defense of Greg Robinson, perhaps they'll only need one tackle in this class.
MI DT Jonathan Hankins may be their guy at the position, as a camp offer is likely to come through, especially considering even the stingy Buckeyes have deemed him worthy of a scholarship. Sam Webb had a "gut feeling" on the Recruiting Roundup Thursday that Hankins would be blue if offered. For those who are unfamiliar with the WTKA morning show, Sam's "gut feeling" means that he has heard directly from a source that the information is true.
Removed SC DT AJ Cann. He is down to a final list that does not include Michigan, and the Wolverines are out of the race for his services.
FL DE Lynden Trail is favoring Florida as he quests to add more weight to give his body a more appropriate DE size (he's currently at 210 pounds, standing 6-7).
Removed PA DE Dakota Royer. He has released a final five list that does not include Michigan. He plans to make a commitment in July. In a really odd twist, especially considering The Sporting News's Recruitnik blog has an article on Royer from the same timeframe, also featuring direct quotes, that Royer is down to a top 10, with narrowing to a top 5 by the end of July. Either way, Michigan isn't on his list, so he gone. Adios, guy who did this:

Removed PA DE Kyle Baublitz, who will be a Nittany Lion.
FL DE/LB Corey Lemonier is playing outside linebacker in a 3-4 defense this year at Hialeah, which is probably fairly comparable to the hybrid roles in Michigan's new defense under coordinator Greg Robinson. It should come as no surprise, then, that Lemonier plans to use one of his official visits on a trip to Ann Arbor. DE/LB is the new WR in this recruiting class, as far as "how many of these guys can we fit in the class?"
MI S/LB/Ath Daniel Easterly currently favors Illinois, but his feelings about the Wolverines are hard to tell, because he won't name schools that haven't offered him among his favorites. He is going to camp at Michigan, so if he earns an offer there, the Wolverines would likely be a serious player in his recruitment.
Michigan is a reported offer for OH S/WR Bobby Swigert. He's apparently camping this week as well.
Removed SC S Bashaud Breeland, now a Clemson commitment.
Removed MD S Jeff Knox, who committed to Pittsburgh.
FL CB Nickell Robey is going to visit Ann Arbor this summer along with FL S commit Marvin Robinson (info in header). This is obviously good news as far as Robey's recruitment, but there's also some moderately bad news that relates to Robinson: he still wants to take a visit to Chapel Hill to check out the Tar Heels (info in header). He still plans to honor his verbal commitment, so this isn't exactly "ACK FREAK OUT"-type news, but the verbal is less than solid, it seems.
Removed OH CB Jordan Paschal. The Trotwood-Madison (Roundtree, Shaw, Moore) product committed to Louisville.
Posted under Football, Recruiting