Following up on the 2009 recruiting update from a day ago, here's its 2010 counterpart. The recruiting board esta aqui.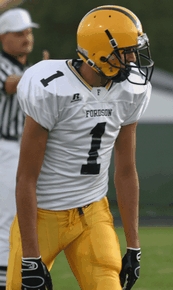 Added: MI WR Baquer Sayed. Michigan already has a couple of wideouts in the class of 2010, but Sayed seems like he may be a pretty good one, and he's right in the Wolverines' backyard:
"Very rarely do we have a 6-2 receiver that can run, jump and catch the ball the way (Sayed) can. I don't know if he is going to run a 40-yard dash in front of a college scout and give him a blazing time [4.6 range]. Baquer can improve that, definitely. That is my job and the rest of our coaching staff's job to get him to do that." [Sayed's coach Fouad Walker]

"I think, as a high school receiver, Sayed could be the best in the state," said [Scout analyst Allen] Trieu. "Prospect wise, Jackson brings a little more size and Banks brings a little more explosiveness. However, I think Sayed has the best ball skills of the three."
Sayed also mentioned potentially playing both basketball and football in college, though he would choose football if he could play only one. His recruiting has been slow to start so far, but looks to be picking up:
Sayed doesn't hold any offers at the moment, but Michigan, Michigan State, Cincinnati, Indiana, UCLA and Bowling Green all have sent letters expressing interest.
Also added to the board: PA CB Cullen Christian. He has been offered by Michigan ($).
Michigan will continue to look to Pahokee for talent in the future, and DL Antonio Ford may be one possibility in the class of 2010. SoFlaFootball brings the info:
The 6-foot-4, 255-pound Ford has the impressive frame and long limbs coaches look for in lineman. The talented lineman is still maturing and his size is only a fraction of what he will end up being in the future.
Ford is currently offerless, but is getting communications from Duke, West Virginia, and Maryland.
OH LB Scott McVey recently visited Ohio State, where he enjoyed himself greatly (info in header). All the news on McVey has been rather Buckeye-centric lately, and I wouldn't be surprised if he ended up committing to the Bucks.
FL DB LaMarcus Joyner has a pretty solid top 3 of Florida, FSU, and Ohio State (in that order). He is not considering MIami of Florida, and it will be interesting to see if any other schools (namely Michigan) will be able to break his top group's stranglehold on his recruitment.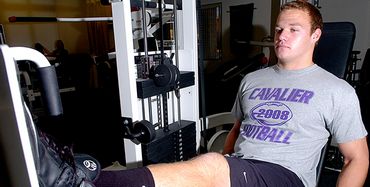 PA LB Sam Bergen tore his ACL this past season, but that won't stop him from being a bigtime recruit:
Bergen was, and strives to be again, the top linebacker in the Mountain Valley Conference. Despite the injury, Bergen, like his older brother Max, who is a redshirt freshman at Stanford, remains a top recruit — and he's got two binders of letters from universities across the country to prove it.
As of now, his favorite schools include but are not limited to Notre Dame, Penn State, Illinois, Rutgers, Stanford and Boston College.
FL RB Eduardo Clements sat down for an interview with SoFlaFootball. He currently favors FSU, Boston College, and Miami of Florida. He's trying to put on some weight going into next season to have a more successful year.
FL WR/Slot Chris Dunkley talks offers with SoFlaFootball, but he refuses to discuss a favorite. He says all of the schools that he is considering are even, though it seems Florida and Georgia may be just a bit out front. He is considering taking summer visits to USC and West Virginia.
Posted under Football, Recruiting
Tags: 2010, antonio ford, baquer sayed, chris dunkley, cullen christian, eduardo clements, lamarcus joyner, sam bergen, scott mcvey

3 Comments so far
More Blog Post