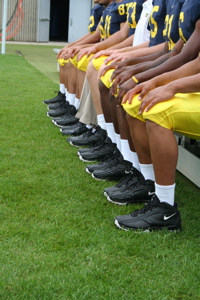 The Personnel HQ is your one-stop page for all items dealing with the personnel numbers, eligibility, and depth for players currently (or soon to be) Michigan Wolverines. If there are any issues or inaccuracies in any of these pages, please comment so the errors can be fixed.
Class of 2009 – Information on every player that makes up Michigan's 2009 recruiting class.
Eligibility Chart – See which players currently on the team are going to run out of eligibility in any given year.
Depth Chart – Varsity Blue's projection of which players will start, and who behind them will see playing time.
Coming Soon – Eligibility by position. A handy visual guide to which positions are short on bodies, and what recruiting needs Michigan is likely to have.
Trackbacks
Leave a Comment
You must be logged in to post a comment.