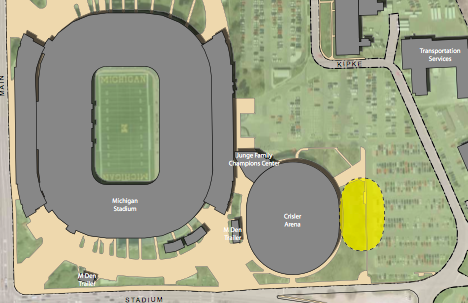 Bill Martin brought a request for permission to get going on a practice facility for the basketball teams. For a mere $23.2 million, the AD wants to put in two practice courts, private locker rooms, sports medicine areas, strength and conditioning areas and offices. The plan calls for it to be built on the East side of Crisler and will remove 150 parking spots temporarily and 60 permanently.  This is prime tailgating area, so those people will still get spots, just somewhere else.
The Athletic Department will now get a design and come back to the Regents for approval.  We're not very far into this project, but it is exciting that it's getting going.
This is obviously a good thing for both basketball programs as it should help with recruiting and ease the scheduling conflicts of having 3 sports using Crisler.  It also signals that the Athletic Department will likely renovate Crisler as opposed to creating a new facility.  Crisler has sort of grown on me since they put in modern lights.
The document is very vanilla and doesn't have very many memorable quotes, but there is one part that is kind of interesting:
The proposed addition will temporarily displace approximately 150 parking spaces during construction and will permanently displace approximately 60 spaces upon completion. This loss will be accommodated as part of the strategic parking and transportation plan for South Campus.
Emphasis mine. I'm not exactly sure what is involved, but I hope it involves an offensive into North Campus. Take that BFE!
Posted under Basketball
Tags: facilities

Comments are closed.
More Blog Post