Recruiting Boards:
2009 & 2010
Moved to Committed: MI QB Nader Furrha. The Ann Arbor Pioneer product will be a preferred walkon for the Wolverines. He has already enrolled in school, and will take part in spring practice. Furrha will add depth, but Michigan is still seeking a viable quarterback candidate in this class.
Moved from Committed: TX CB/WR DeWayne Peace. He decommitted yesterday, citing a desire to play WR. Michigan coaches told him they liked him primarily as a CB, and that would be his position once he got to Ann Arbor. The stubborn stance by Michigan coaches certainly implies that he won't be sorely missed from the recruiting class (and I think most fans felt he and Jordan Barnes were the most expendable members of said class). Classy move by the coaches to not lead a kid on just to get his signature, then change his position without his consent once he arrived on campus. It seems more likely now that Michigan feels good about a CB prospect or two, and probably an outside WR as well. Peace will remain on the board – for now – but his player page has been removed from the committed player HQ.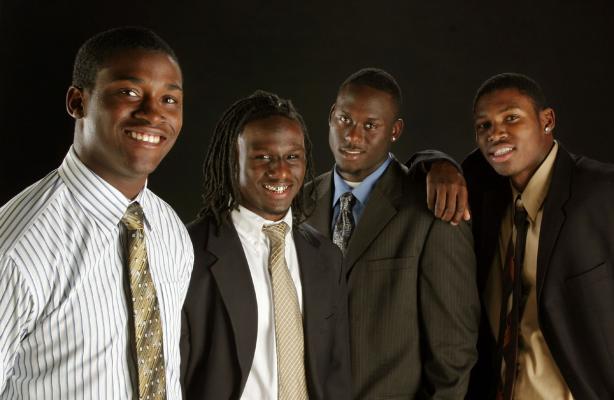 It should come as no surprise that a high school powerhouse like Pahokee gets all sorts of individual honors for its players, but it is certainly notable that the small school offensive AND defensive Players of the Year go to the same high school – and now will remain teammates in college. Vincent Smith took home the offensive honor for the area, and Brandin Hawthorne earned the defensive distinction. In the photo (courtesy of The Palm Beach Post's Ray Graham), Smith is second from the left, and appears to be sporting a gold grill. Hawthorne is on the far right. The other two gentlemen are FSU commit Lonnie Pryor and 2010 Florida commit Matt Elam.
This is obviously a little dated, as the Army game has come and gone, but here's a little San Antonio fluff on 2009 K Commit Brendan Gibbons:
East kicker Brendan Gibbons (West Palm Beach, Fla.), who is committed to Michigan, doesn't fit the stereotypical kicker mold — you know, small and reclusive.

For starters, the talkative 6-foot, 202-pounder is unusually buff for a kicker. On top of that, Gibbons spent the better part of Thursday's first practice hyping up Michigan to a handful of skeptical teammates.

He at one point noted Ohio State quarterback Terrelle Pryor, the MVP of last year's U.S. Army All-American Bowl who had a drawn-out recruiting process that ultimately came down to the Buckeyes and Wolverines, "should be wearing blue."

Gibbons isn't just all show, though. He was consistently booming the ball on field goals and kickoffs during practice.
Clearly Gibbons is a good recruit/recruiter for the Wolverines. He also told GBW that 2009 VA QB Tajh Boyd was now interested in Michigan. However, with Boyd's final official now scheduled for Clemson, it appears that ship has sailed. Boyd won't be added to the board unless there is a radical change in the coming days. And to wrap up the kicker talk – not to bag on a kid for not choosing Michigan, but having watched both All-star games, I'm very glad with the way Michigan's kicking situation ended up for the 2009 recruiting class. Gibbons also earned the Maxwell Award for high school kickers.
2009 DT Commit (albeit a soft one) DeQuinta Jones visits Arkansas this weekend. I would postulate that they are not Michigan's biggest threat in landing Jones.
Speaking of All-Star fluff, 2009 SC DE Sam Montgomery participated in the Under Armour game, and the Index-Journal ran perhaps one of the fluffiest articles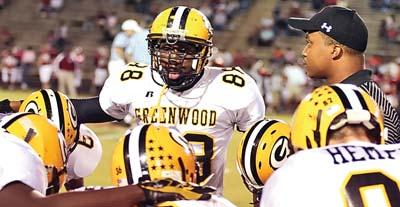 I've linked in a recruiting update. Fortunately, there is a little bit of actual information:
Along with playing in the Shrine Bowl on Dec. 17, Montgomery was also an All-Lakelands and Associated Press All-State player on a Greenwood team that bounced back from a 1-4 start to win the Region 1-AAAA title and make the Class AAAA, Division II state playoffs.

Montgomery lined up at defensive end in all but two games for the Eagles and recorded 78 individual tackles, 11 sacks and three forced fumbles. Despite having completed just his second season playing football, the 6-foot-4, 220-pound Montgomery has Division I scholarship offers from schools around the country, including Southern California, Miami (Fla.), LSU and Michigan.
So, honors and stats and fluff hooray. By the way, Montgomery's lead recruiter for LSU, defensive line coach Earl Lane, got the axe yesterday, and that may have an effect on Sam's recruitment.
2010 AR QB Claude Johnson participated in the Army AA Junior Combine, where he performed well:
"I made some good, accurate and strong throws," Johnson said. "The receivers helped me out a lot because there's a lot of good players out here. I do believe I was one of the best out here.

"Some of them do have more height, and that's an advantage in college football right now, but I have heart and I play hard. I feel like I can play with anyone."

Johnson ran a 4.78-second 40-yard dash and a 4.35-second pro-shuttle time in the early morning testing.
So he's certainly far from a blazer, but could definitely still be considered a dual-threat.
And how about a couple removals?
2009 MA OL Brennan Williams committed to UNC at the Army game.
2009 MD RB Tavon Austin commited to West Virginia.
2009 FL CB Mywan Jackson committed to North Carolina, which was something of a foregone conclusion when he set up his announcement between three schools earlier this week, when the 'Heels were the only team he visited.
For news about this weekend's visitors, check out the recruiting post from earlier this week. Sam Webb brings the most recent update on who'll be in town.
Posted under Football, Recruiting
Tags: 2009, 2010, brandin hawthorne, brendan gibbons, brennan williams, claude johnson, dequinta jones, dewayne peace, mywan jackson, nader furrha, sam montgomery, tajh boyd, tavon austin, vincent smith

Comments are closed.
More Blog Post