To follow up the recap, I'll be doing a weekly look at the team stats.  I won't post any pitching graphs for until at least next week as many of our pitchers have only thrown once so far. It's hard to see progressions from that.
A couple stats stood out to me this weekend. First off, our lead off and 2-hole hitters are both batting under .200. Kevin Cislo is batting .077 and is has an onbase percentage of .364. This isn't going to cut it as we move forward into the season. Hopefully this was just Cislo either in a small slump, or just early season jitters. He really needs to step it up over the next week.
Anthony Toth is only batting .182 so far. Toth at least has the redeeming quality of a .582 on base percentage thats to 7 walks and 1 hit-by-pitch. Right now its Toth who is setting up the guys behind the order rather than Cislo. Toth is scoring every other time he reaches base, which is a great ratio.
Much of his run scoring is attributed to the great play thus far of LaMarre, McLouth, and Urban. LaMarre has acting more like a 2-hole hitter with the slow start by Cislo, which has been a great boost to the team. LaMarre is a good singles hitter who is setting the plate for the two bats behind him. McLouth has gotten the most credit so far with a .412 batting average and 4 RBIs. Urban is batting .471 and also has 4 RBIs. What's more impressive is Nick's .737 slugging percentage (bases/at-bat). He's our only hitter who has really been getting extra base hits. I'm not sure yet if this is a good thing, as we are still winning, but you'd like to see a few more batters capable of getting a few more doubles here and there.
Dufek in the middle of those three is the team RBI leader with 5, but that golden sombrero day on Sunday sent his batting average down to .214. Berset had the same kind of weekend, batting only .100 with a run and an RBI. Lorenz has been a non-factor offensively, going 0-8 with a walk so far.
The bright spot of the bottom of the order – if not the whole order – has to be Kenny Fellows in the 9-hole. Fellows leads the team with a .500 batting average (7/14) and a .533 on base percentage. Being isolated from the rest of the hitters, Fellows really hasn't had that much of a chance to get many RBIs or score many runs, but his average will either get him moved up in the lineup, or once Cislo comes around, he becomes a leadoff hitter at the bottom of the order.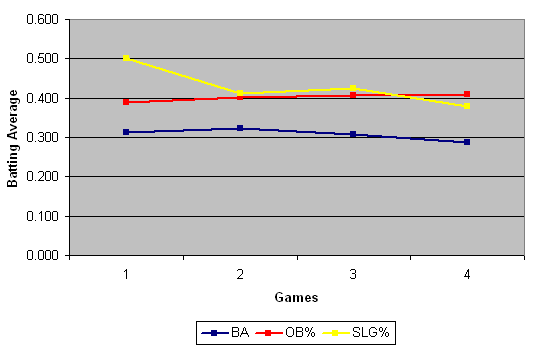 Excel Graphs!
Here we can see the team batting average over the course of the season (each point is cumulated stats). Right now it doesn't mean too much, but over the course of the season, I plan to track it pretty closely. The independent variable is the game number (USF =1, Purdue =2, etc). The blue line is indicative of the team batting average. You can see we hit better in the first two games, and we've been working our way back down in the second two. We're not doing too badly as a team. Right now we're hitting .288 as a team, which is a bit lower than I'd like. The average for the NCAA has been between .291 and .297 for the last ten years.
Also, another reason the average went down can be seen in the raised on base percentage (red line). We gained several more walks and hit by pitches in the last two games (18) compared to the first two games (9). These walks took away a hit or two from some of our better batters, leaving just our weaker batters accounting for more at bats.
Slugging percentage is the yellow line. Slugging percentage, as stated earlier, is bases per at-bat. Our first game had 3 doubles and a homerun driving up the total number of bases. Game three saw a double, a triple, and a homerun. For the most part we've been all about the singles (31 singles out of 38 hits). Like I said earlier, I'd like to see a little more pop, but as long as we stay consistently hitting singles, we will score runs.
A couple areas I'm worried about right now are base running and defense. Base running is the big problem area for me right now. We went up against four meh catchers this weekend but only went 4/12 on stolen base attempts, and we were picked off 3 times (should have been 4). I like the aggressive approach to the game, but we have to be smarter on how we go at it. Part of the reason Fellows isn't scoring runs is because he is 0/4 on stolen bases. Each of our 1-4 hitters have also been caught stealing once (Cislo 2/3, Toth 1/2, LaMarre 1/2, Dufek 0/1).
Defense is a little bit less of a worry, but it did stick out in the Purdue game when we had three errors. The good news is that 2 of our 4 errors came from backup players rather than starters; Crank had one at catcher and Kalcyznski at third. The other two came from Toth and Lorenz. This will probably happen quite a bit as these two first year starters get used to the game. Lorenz is a real question mark at third in my mind. The kid was a high school short stop who has had limited play over the last year and is a true freshman. It may take him a full year to really get third base down.
Posted under Baseball
Tags: baseball stats

5 Comments so far
More Blog Post