I vaguely remember parts of Michigan's last NCAA Tournament game.  I was 12 at the time, but I still remember a gigantic man in maize at the free throw line with Michigan down by 3 to UCLA.  He had to make his first and miss his second.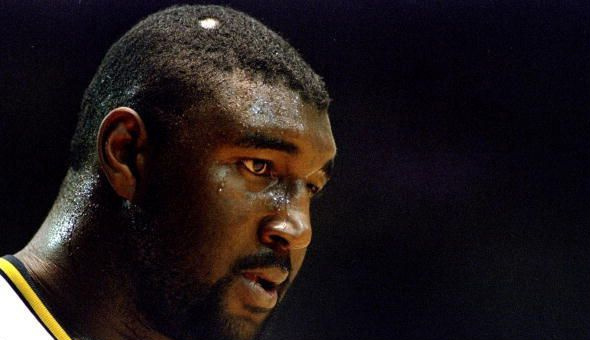 I can't remember how that game ended, except that Michigan was not able to win. I certainly didn't understand what happened over the next few years as it came to light how much was wrong with the Michigan Basketball program.
Fisher left and Traylor picked Brian Ellerbe to be the replacement. Traylor left the following and Michigan truly began it's decade of aimless wandering.  The teams and the players Ellerbe brought in couldn't capture my interest, even though basketball has always been my favorite sport.  I really like Bernard Robinson Jr. and LaVell Blanchard, but they weren't enough to get me into Michigan basketball.  In 2001 it looked like we might turn the corner.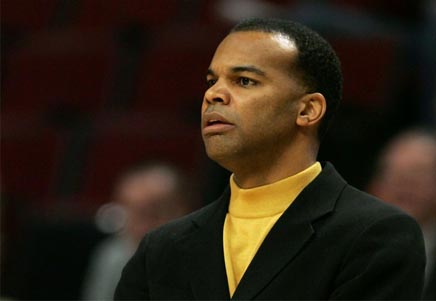 Tommy Amaker was a hot coaching prospect. He had a good pedigree with his history at Duke and he took Seton Hall to the Sweet Sixteen. In 2002 he brought in Daniel Horton, Lester Abrams, Amadou Ba, Sharrod Harrel, Graham Brown and Chris Hunter. Horton beat out Dee Brown at Illinois for Big Ten Rookie of the year.  There was another great class brought in the next year.
There was a lot of excitement for these teams, and they often looked like they could make the tournament. I remember after they won the 2004 NIT people were talking about how Michigan won the 1984 NIT and then went on to become a number 1 seed in 1985.  That didn't happen.
Amaker had six years and couldn't get in the tournament with talent that has become the NBA Developmental League All-Star team.  I was surprised when it was announced that Amaker would no longer be the coach. I figured there would be one more year with the coming freshman class of Kelvin Grady, Manny Harris and Alex Legion.  Bill Martin decided to make a bold move in firing Amaker and made an incredibly safe decision to hire a coach with over 30 years of head coaching experience.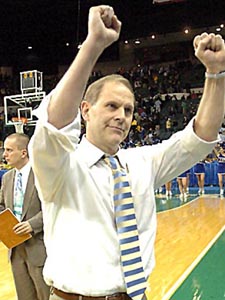 The first season was the painful square peg and round hole feeling that Michigan fans know a little too well by now.  The players didn't look like they were getting the system, and some weren't even trying.  In 2007, Michigan only won 10 games, and in many it looked like there was no way they could score.
Coming into this season, there were three seniors on the team, two of which started as walk ons.  There were 3 players over 6'9″, one red shirted, another played a total of about 10 minutes. At most points during the season Michigan started 2 freshman. Zack Novak was matched up against people 5 inches taller, 40 pounds heavier and with 3 more years of experience.  This should not be a tournament team.
Then Michigan beat UCLA. Most fans were brought back down to Earth by the Duke and Maryland games.  Then Michigan beat Duke and didn't drop another out of conference game.  I had become used to Michigan dropping two or three games they shouldn't have.  That didn't happen. They made it to the conference season only losing to two good ACC teams.
The conference season was up and down, but the team was always in the game and always in the hunt for the Big Dance. They entered into their last four games needing to win two and they beat two tournament teams, Purdue and Minnesota.  The formula was then set: win one at the Big Ten Tournament and Michigan is likely in.  Michigan completely dominated Iowa, looking like they could beat anybody.  They then looked flat against a very efficient Illinois team.
The rational side of me had read all the great bubble breakdowns and knew that there is no reason Michigan shouldn't be in, but at Crisler, with a few thousand other Michigan fans, I was still nervous. Coach Beilein didn't reassure us with his pre-rally speech. It was good, but it had the sound of trying to cover the bases in case Michigan didn't make it.
Once the show started, you could feel the crowed tense up just before every 8, 9, 10, 11 or 12 seed were announced. After each bracket, the fear grew. There were a lot of bubble teams that I didn't think would make it that did. The crowd grew a bit nervous, and nearly exploded when Minnesota was announced as part of the field.
They had gone through the top half of the last bracket, and the spots for Michigan was down to 2. I was already gearing myself up for disappointed. "If NCAA refs have been screwing over Michigan all year, why shouldn't the NCAA selection committee?".
Then Michigan was announced as the 10 seed in the South Bracket taking on 7 seed Clemson in Kansas City. Then,  this happened: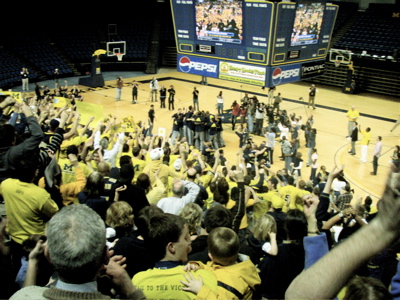 There was a huge sense of release from the crowd. people were jumping up and down and hugging, and it lasted well after CBS has cut away.  Beilein thanked the coaches; David Merrit addressed the crowd; the players led the crowd in singing the Victors.  Beilein and the players left the court to do their media interviews, and I walked home unable to wipe the smile off my face.
As I was walking up my block, there were some people running in to check Southwest Airlines to see how much it would cost to fly out to Kansas City.  It's like a curse that has left a seemingly permanent malaise was finally broken.  It doesn't matter what happens in the NCAA Tournament. This team has done something that, on paper, better Michigan teams couldn't.
There's excitement for Michigan basketball again. There were more people at this announcement than were at the Eastern Michigan game last year.
Like John Beilein said: "Making the tournament is only the first step."  A step that he was able take in two years. I can't wait to see what happens in the next two years.
Posted under Basketball
Tags: I posted, John Beilein

5 Comments so far
More Blog Post