Though it doesn't boast Varsity status, the Michigan Men's lacrosse team is one of the best club programs in the country, winning the 2008 MCLA National Championship, and having won seven CCLA Conference Championships this decade. So, yeah: they're kind of a big deal. The Wolverines had their home opener (and another game) this past weekend, and yours truly was lucky enough to attend (as I will do for the entire home schedule).
Colorado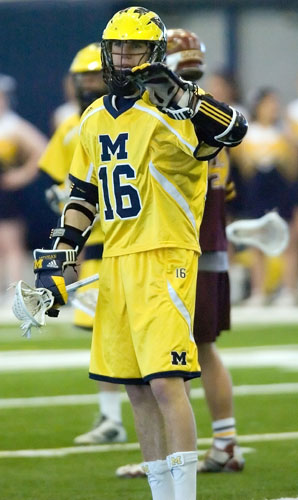 The Buffaloes came into this game ranked #12 in the country (Michigan was #1), but Michigan was able to dispatch them with relative ease. The final score was 13-4, and the Wolverines got scores from 6 different players, led by Trevor Yealy's 5. The second quarter was the difference for Michigan. Leading by a narrow margin of 3-2 after the first, they exploded for 6 more goals before halftime, and the game was never again in doubt. Backup goalie Mark Stone played for the entire 4th quarter, ceding only one goal. Also the Colorado goalie played the whole game in cutoff sweatpants.
Minnesota
This game was also out of reach for the opponent by the time the fourth quarter rolled around, but it ended much sooner than that, for all intents and purposes. David Rogers, Riley Kearns, and Kevin Zorovich all scored within 2 minutes of each other in the first period, and the floodgates were opened. The Wolverines led 10-1 at the half, and backup goalie Mark Stone got his second consecutive day of significant playing time. The bench was emptied in the second half, as 10 different Wolverines found the back of the net (Yealy again led the team in scoring, this time with 4). However, the Gophers did manage to get a bit of scoring on in the second half, as they had 4 tallies in the half (3 in the 4th quarter alone). When all was said and done, Michigan was walking off the field with a dominating 17-5 victory over a clearly overmatched opponent.
Up Next
Michigan again hits the turf in Oosterbaan this weekend, squaring off against conference foe (and cross-county rival) Eastern Michigan on Friday night at 8:00PM. The Vanderbilt game previously scheduled for Saturday night, so EMU will be your only chance to see the team in action this weekend. Admission is $6 ($3 for students), so come out and support a very strong Michigan club program.
Trevor Yealy Photo by Clark Bell for Michigan Men's Lacrosse.
Posted under Other Sports
Tags: colorado, lacrosse, minnesota, postview

2 Comments so far
More Blog Post