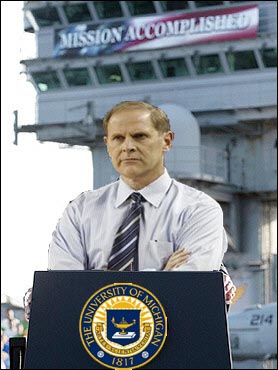 The path had been set for a while.  Since home February 19th when Michigan beat Minnesota at home, the formula was set: win two of four and one in the Big Ten Tournament. After Iowa it didn't look like it was going to happen, and then Michigan stunned Purdue and came back against Minnesota.
The stage was set for everything to come together.  They had to play then team that almost ruined the dream.  This time, they didn't feel like letting the refs have any impact on the outcome.
Michigan could have stopped scoring with 16 minutes left in the second half and still won the game.  It was barely even a contest.
The variables are set and Michigan is in the Tournament.  Let's think about this for second. In John Beilein's second year, after only winning 10 games the previous year, with only about two and half players taller than 6'7″, Michigan is in the tournament.

---
The start of the game was everything a Michigan fan could hope for. The team fed DeShaun Sims every time down the court and got rewarded with Peedi scoring the first 14 points for the good guys.
They slowed down Sims a little (mainly because he went to the bench), but then the 3pt shots started to fall.  Michigan shot over 70% in the first half to Iowa's mid 30%.  It was over at the half.
The second half was more of the same with Manny getting his rythm from 3.  Hopefully this will carry over to the Illinois game.  It's not a must win, but this is the best I've seen this team play, and if they continue to play like this they can beat anyone in the Big Ten and a good number of teams in the national field.
Sims was owning a bigger player. The spacing was perfect. Manny was able to work some amazing pick and rolls with Peedi.  The defense forced 16 turn overs and was able to run out on most of them.  The only thing I can complain about this game is that Sims should have dunked more.
Michigan 73 – Iowa 45
Enjoy this game, and get out your dancing shoes!
Posted under Basketball
Tags: DeShawn Sims, John Beilein, Manny Harris

2 Comments so far
More Blog Post