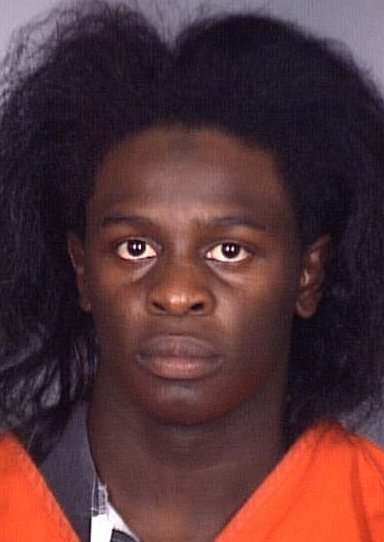 TX RB Chris Parr, who I'd previously noted has something of a reputation of being a troublemaker, has landed himself in hot water again, this time beating up a 14-year old. I don't want anything to do with the kid, and I'd assume the staff feels the same way. As far as character risks go, I don't think this staff would take a kid like Parr, and certainly not while they have many other attractive options on their radar (and after the grief they've taken about Chris Henry and Pacman Jones since the move to Michigan). He's been removed from the board, though I will admit he takes a good mugshot.
Florida has offered FL OL Leon Orr, and it sounds like that's the place he really wants to end up. He hasn't committed yet, but he gets an imaginary frowny face icon.
PA DE/LB Dakota Royer is starting to get his recruiting process squared away, and he has numerous offers as well as a list of favorites:
"It was very good … They are up there right now," said Royer, who has offers from Maryland, Penn State, Colorado, Notre Dame, Illinois, Stanford, UConn, Michigan State, Kentucky and Rutgers.

"Maryland, Pitt, Penn State, Michigan State, Notre Dame — those are my top [schools]," he said.
No Michigan mention, in terms of interest from either side. However, I wouldn't be surprised if he popped up on the Wolverine radar soon – if only to show Little Brother who's boss.
KS DE/LB Geneo Grissom (already on the board) is indeed getting interest from Michigan. The linked article regards his attendance at the Jayhawks' junior day.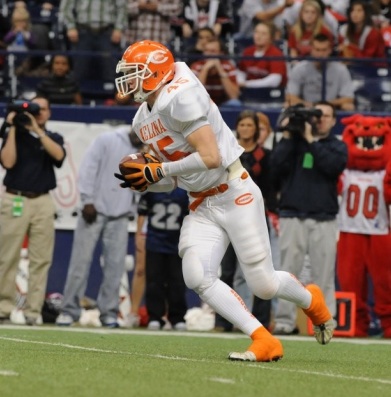 Are you interested in the latest news on TX LB Caleb LaVey? Then CalebLavey.com is the website for you! His "Recruiting" page indicates he is receiving interest from Michigan (but he does not mention an offer), so he has been added to the board. I assume the site won't be the most enlightening in terms of details about his recruitment (a la qbforce.com), but thus far it seems to be updated enough to be relevant, so hopefully his dad (who is listed as the contact, and I assume is the one operating the site) will update it frequently.
Michigan leads for PA CB Cullen Christian. They are far ahead of most of the competition, and he visits campus the weekend of March 19th. He has plans to set up visits with several other schools on his list, as well. Christian also thinks he won't make a final decision until his senior season, giving those schools a chance to play catch-up.
It looks like I should be ready to remove SC DB DeAndre Hopkins from the board. It appears as though he's highly likely to make a commitment to Clemson at their junior day this weekend. He'll stay on the board for now in the event that the commitment doesn't come to fruition.
Lastly, I want to mention (since I've been forgetting to do so since the news broke about 3 weeks ago) that FL WR Commit Ricardo Miller is planning to transfer out of Dr. Phillips High School in Orlando, and up to Ann Arbor Huron for his senior season. This, obviously, would unite him with fellow WR Commit Jeremy Jackson. That would be a pretty good tandem in the world of SE Michigan high school football. Speaking of Jackson, I found this interview of him on a random blog, whose credibility I can't vouch for. Take it for what it's worth.
Big Back Huntin'
With Brandon Minor graduating after the 2009 season, Michigan will likely be in search of another big, powerful back in his mold. Currently, Mike Cox is the only player on the roster who even comes close to being the style of running back that Minor is. Though all the rumblings out of last year's team indicated that Cox was performing well with the scout team, Only having one bruiser on the roster might not be the most successful gameplan.
On that note, Michigan recently offered GA RB Mack Brown (Scout header confirms), as well as SC RB Marcus Lattimore. Both fit in the "big back" mold of Brandon Minor, though Lattimore is the more highly-regarded prospect at this time, and may be more of a complete all-around player. Speaking of Lattimore, until recently he had planned to announce his decision at the Army All-American game. Now, he has changed his mind and will wait the extra month or so until Signing Day. From the tenor of that article, it would appear that South Carolina is a heavy favorite.
There is also mutual interest between The Wolverines and CA RB Dietrich Riley (info in header). I've added him to the board, and he also fits the bill of "big back." And last in the big back parade is TX RB Stephen Hopkins. The Wolverines are showing him interest (info in header). I wonder if they want an inside runner in this class. Hmm…
Posted under Football, Recruiting
Tags: 2010, caleb lavey, chris parr, cullen christian, dakota royer, deandre hopkins, dietrich riley, geneo grissom, jeremy jackson, leon orr, mack brown, marcus lattimore, ricardo miller, stephen hopkins

5 Comments so far
More Blog Post