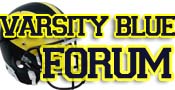 After a round of alpha testing, the Varsity Blue Forum is ready to go live. There are categories for the main topics we cover here on Varsity Blue, including Football, Basketball, Baseball, and recruiting. You can also hit up the general discussion and off-topic areas to talk about other things.
Check it out, start a thread or two, participate in a couple others, and hopefully this thing can get rockin' and rollin'.
Also: don't forget to listen to the WTKA remote at Spring Practice today, from 3-6 on 1050AM in Ann Arbor, or WTKA.com anywhere else.
Posted under Blog News
Tags: Media, vb forum

Comments are closed.
More Blog Post