A series exploring the commitments (and subsequent decommitments) of Michigan's lost members of the class of 2009.
The Commitment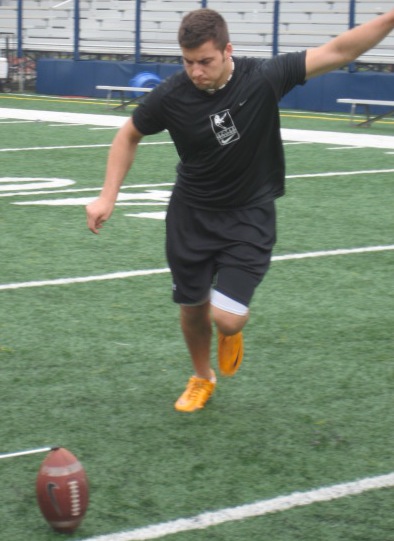 With KC Lopata and Jason Gingell leaving Michigan following the 2008 season, the Wolverines were in search of a placekicker. Already on the roster, Bryan Wright has struggled with health problems, and didn't seem to be an option for field goals, and the need had to be addressed during recruiting. The Wolverines took a proactive approach, inviting multiple kickers to attend various summer camps in Ann Arbor. Though Anthony Fera was unable to make the kicking camp, he was able to come to the full-week camp, where he worked out privately for the coaching staff. This reportedly didn't go so well, though Fera was apparently nervous at the time. After evaluating other possibilities, Fera was deemed to be the best option, and he was offered a scholarship. After a couple days' delay, Fera called the coaching staff and committed to Michigan.
The Decommitment
Though Fera verbally committed to Michigan, it appeared as though his heart was never fully sold on the Wolverines. His father is a Penn State alum, and Anthony grew up rooting for the Nittany Lions. Since Penn State's Kevin Kelly graduated after 2008, JoePa and co. were in the market for a kicker in the class of 2009, and they brought Fera for an on-campus visit (while he was still committed to the Wolverines (omg snake oil) and without the prior knowledge of Michigan's coaching staff). Anthony enjoyed the visit enough to switch his commitment from Michigan to Penn State. Shortly thereafter, he began a war of words with Anthony LaLota on Facebook about whether Michigan or Penn State was TEH RULZ, but that's really neither here nor there.
The Impact
After evaluating all possibilities, Fera was the Michigan coaches' first option. This is undeniable, so losing him is obviously something of a hit, regardless of replacement (unless, of course, another recruit who was considered unavailable was the replacement). However, the Michigan coaches, after evaluating both Fera and Brendan Gibbons, needed several days to decide which of the two to offer. Eventually, they went with Fera, but he was replaced by Gibbons, which seemed to be a near-equal trade. The way it turned out, they may have been vindicated by each kicker's performance in All-Star games. In the Army Game, Gibbons nailed several field goals, and the only miss was a block because of a bad hold (by fellow future Wolverine Jeremy Gallon). In the ESPNU game, Fera looked out of sync, missing multiple field goals, and booming a kickoff into the stands… wide of the field. As always, recruiting kickers is still a crapshoot, so it remains to be seen down the road whether they got the right man or not.
Posted under Football, Recruiting
Tags: 2009, anthony fera, decommitment

6 Comments so far
More Blog Post