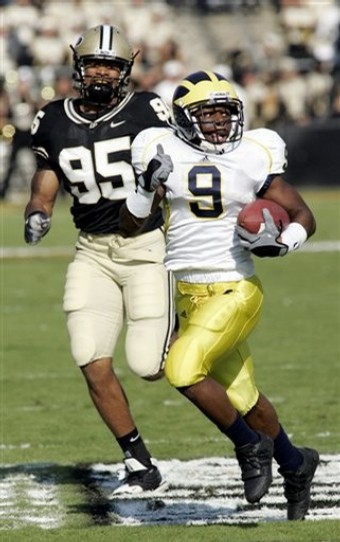 Or: How I learned to stop worrying (about size) and love the star system.
Since the dawn of the Rich Rodriguez era, there's been a marked shift in recruiting philosophy. No, not the sudden emphasis on Central and Southern Florida. I speak of the recruitment of several tiny dudes each of the past three years who could plausibly play running back or slot receiver. The Lloyd Carr regime rarely recruited anyone under 5-9 (Mike Hart notwithstanding), and certainly not to play wide receiver. On the contrary, Carr seemed to only be interested in wideouts who were over 6-0, and preferred big guys who were 6-4 and over. Why the sudden change in philosophy? Il'l let the venerable Jim Stefani have the floor for a moment:
Lloyd was looking for big and fast RBs and WRs, kids who would fit in well into his pro-style offense and project well for the NFL.  There are only a small handful of prep players each year that met the skill set that he was looking for (big AND fast), so it was critical that he land a few of these kids every year.

RichRod, however, is looking for small and quick slot type receivers and backs who excel in space.  There are a lot more small and quick 5-7 to 5-11 slot types out there to recruit every year than there are future Braylon Edwards's or Chris Perrys.  These kids may not project as NFL first round draft picks down the road, but they are kids who have the specific skills to succeed in RichRod's offense because what they will be asked to do in this offense will be quite different than what the backs and receivers were asked to do playing Lloyd-ball.
So what does this mean? Rich could just grab any old guy off the street and he would perform equally as well as Percy Harvin? Of course not. However, there is something about the little guys that is more exciting (despite, perhaps, lower rankings). I think part of the reason Michigan fans fell in love with Martavious Odoms last year was not because he was an exceptional slot man, but the fact that the Wolverines hadn't had a little guy at that position at all in so long. The concept of the slot receiver was as appealing as Odoms himself. If Michigan starts getting elite slot guys down the road, the offense could be that much more potent and exciting.
So why is Michigan now recruiting these tiny guys? As Jim said, the tiny guys are more likely to have the skill set that Michigan needs for the slot position to be effective. Good speed, exceptional quickness, and very good change of direction are all important to make plays in space. A bubble screen is only as effective as the ability of the receiver to make a guy miss, run by a guy, and get the ball down the field. Taller guys are generally less flexible (particularly in the hips – look at cornerbacks), and less able to change direction on a dime. Tall guys can be just as fast – look at Usain Bolt or Larry Fitzgerald – but lack the flexibility for this particular position.
That said, there are taller guys out there who have the skill set. These are freak athletes, like Percy Harvin, even Steve Breaston. With more height, and the same ability to run fast and change directions, evade tacklers, etc., these players are superior. They can do everything the little guys can, plus they're able to get balls that are thrown higher, etc. These end up being your higher-rated guys. Noel Devine was a five-star, but think if he had the same skills at 6-1. He'd probably have potential to be one of the best ever.

Down the road, Michigan will probably be able to get these taller athletes with slot skills. However, that doesn't mean that there's no place in the offense for tiny guys.
Posted under Football, Personnel, Recruiting, Video
Tags: boring offseason, martavious odoms, percy harvin, tony drake

4 Comments so far
More Blog Post