A softball preview? I've seriously gone off the deep end.
The Alabama Crimson Tide obviously is (are?) a good softball team. If they weren't, they wouldn't be in the Women's College World Series, obviously. But what exactly should we know about the Tide before tonight's game (7PM EDT on ESPN)? For starters, they finished the year second in both the SEC and the nation to the Florida Gators in terms of win percentage, and are the #4 overall seed in the tournament. Their head coach, in his 11th season (and 11th consecutive NCAA tournament berth), is Patrick Murphy.

Pitching
Alabama's ace, who I assume the Wolverines are likely to see tonight, is sophomore Kelsi Dunne. She is tied for 16th in the nation (with the Wolverines' Nikki Nemitz and 3 others) with 27 wins. However, Michigan might not see her for the entire game, as she's one of 2 players in the top 30 nationally in wins with fewer than 200 innings pitched, clocking in at 194 2/3. The Tide's other main pitcher is junior Charlotte Morgan (we'll learn more about her momentarily, as well), who has thrown around 140 innings. Dunne is 20th in the nation in ERA, allowing 1.37 runs per 7 innings, and 27th in the country with 8.6 strikeouts per game. Morgan is not nationally ranked in any of these categories.
Hitting
Though she's not the Tide's best pitcher, Morgan is certainly their best hitter. Last year, she was an All-American on the basis of her prowess at the plate. This year, she's 33rd in the nation with a .414 batting average, and is 22nd in the country with just barely under 1 RBI per game. She's the Tide's main hitting weapon, as they don't have anyone else nationally ranked (top 30) in either category. Of course, for comparison's sake, Michigan doesn't even have a single player ranked by those metrics – the Wolverines get it done with pitching. On top of Morgan's hitting ability, the Crimson Tide really hurt teams with lots of stolen bases. Senior outfielder Brittany Rogers, the team's second-best hitter, is tied for third in the country with 0.84 steals per game, and her freshman teammate Jennifer Fenton is #30 with 0.52 stolen bases in each contest. Fenton is third on the team in batting average, so being on-base more frequently allows for more stealing opportunities: it seems like Murphy really likes to get his players moving whenever they're on the basepaths (the Tide are 1st nationally in SBs with nearly 5 per game). Put all that offense together, and you have the 5th-most prolific scoring team in the USA.
Fielding
Going back to defense, the Tide are a good fielding team as well. Their fielding percentage is .975, good for 10th in the country. They've committed only 40 errors on the year, so getting cheap bases will probably not happen. If you're looking for chinks in the armor, infielders Whitney Larsen and Kelli Eubanks are the only regular starters with fielding percentages below .950 – and they also happen to be the team's weakest hitters. Another weak fielder is extraordinarily-named Jazlyn Lunceford, who is not a starter, but has seen time in 50 of 'Bama's 61 games.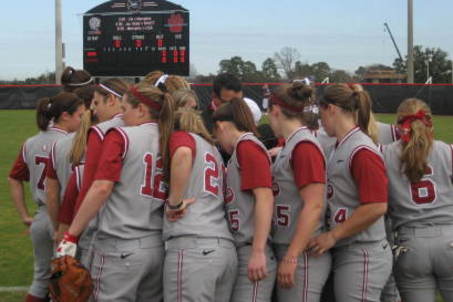 So, what have we learned about the Tide? They're very strong on offense. And defense. They are very strong on offense and defense. Whereas Michigan gets it done mostly through pitching and defense (3rd in the nation in ERA, 16th in fielding percentage), Alabama gets it going on both ends, generating offense through not only hitting, but also stealing bases, all while relying on very good fielding and pitching to keep the score low for the opponents. Based on those two aspects, I would be surprised if they were anywhere other than 2nd nationally in scoring margin, though the NCAA doesn't keep stats on that. They're certainly a formidable first test in the WCWS, and Michigan will absolutely need to be on their game to pull out a 'W' tonight.
Posted under Other Sports
Tags: alabama, boring offseason, preview, softball

1 Comment so far
More Blog Post