When Kurt Wermers left town, he tried to take a potshot at the Michigan coaching staff, comparing them unfavorably to Lloyd Carr's (under whom he never played, for the record). This, of course, has a serious short term effects of making the media insufferable for about a week, and compounding the similar accusations made by Justin Boren on his way out of Ann Arbor. Long term, it may diminish offensive line depth, and even chip away at Michigan's ability to recruit players (though it flies in the face of, like, everything that anyone else has said about the staff).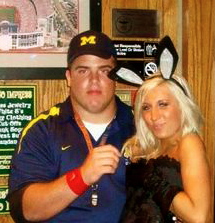 Perhaps the most serious damage Wermers may have inflicted, though, is not in terms of what he did do, but rather what he didn't: stay eligible. Michigan's football APR has been declining slightly over the past few years, as the Carr tenure waned and now even more Rich Rodriguez has come into town with his demanding program. Several players – whether they didn't fit the system, weren't willing to put in the work, or just wanted to go to Ohio State in the first place but were guilted into Michigan by Bo and used a father's plow service(!) as an excuse to leave Michigan – have departed since the new sheriff in town took over.
The NCAA's Academic Progress Rate is used by The Toothless Organization to determine which schools aren't taking care of their student-athletes academically. It is calculated by a 4-year average of scores out of 1000, and if said score dips below 925, tTO will write you a strongly worded letter, then give no actual sanctions (though they've gained some teeth, and have punished even a couple BCS conference teams). So how has Michigan done over the past couple years? Take a look:
Michigan APR
Year
APR Score
2006
958
2007
951
2008
947
2009
???
These numbers have, as mentioned above, been on the decline for a couple years, and as higher-APR scores from years past move out of the 4-year average, and the more recent years (with worse APR scores) go into the equation, it doesn't necessarily bode well for Michigan. Each player leaving the Michigan program costs the team 1 point out of 1000 in the APR calculation for that year. If a player leaves while he is ineligible for NCAA competition, it reduces overall score by 2 points. It's unclear exactly when players count towards the next score: I believe those who left before the 2008 season have already been counted, and no others have.
Michigan Attrition
Player
When Left
Notes
Ryan Mallett
Winter 2008
Arkansas transfer
Chris McLaurin
Winter 2008
Medical reasons, unclear whether he's still in school or will count against APR
Corey Zirbel
Spring 2008
Career-ending injury, still in school and won't harm APR
Justin Boren
Spring 2008
OSU transfer
Marques Slocum
Summer 2008
Likely ineligble
Marcus Witherspoon
Summer 2008
Left after 2 weeks at school (does he even count against APR?), academically ineligible
Tony Clemons
Winter 2009
Colorado transfer
Zion Babb
Winter 2009
Artis Chambers
Winter 2009
Avery Horn
Winter 2009
Sam McGuffie
Winter 2009
Rice transfer
Steven Threet
Spring 2009
Arizona State transfer
Kurt Wermers
Spring 2009
Ball State transfer, academically ineligible
Dann O'Neill
Spring 2009
Western Michigan transfer
That means 8 players have already left the team since the end of the 2008 season. According to history, more may be on the way. With Michigan's APR trending downwards, it appears as though the 2010 score will be more of the same. Will the Wolverines dip into the danger zone – below 925? They haven't come close yet, though they're certainly heading in the wrong direction. But hey, there's always applying for waivers.
Posted under Coaching, Football, Misc., Personnel
Tags: academics, boring offseason, kurt wermers

7 Comments so far
More Blog Post