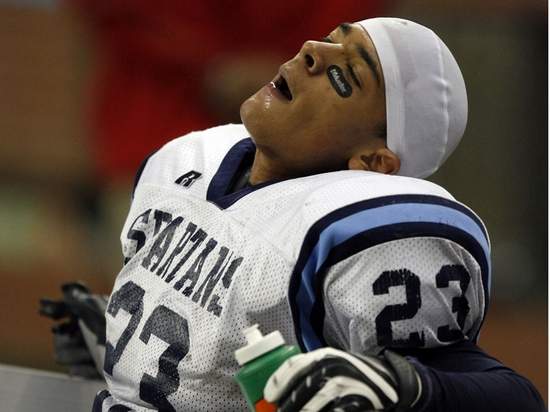 MI RB Austin White has committed to the Michigan Wolverines, according to the premium recruiting sites. White, who hails from Livonia Stevenson, is one of the top prospects from the Great Lakes State. White weighs in at 6-0, 186lbs, and has been timed at 4.44 in the 40-yard dash.
Recruiting Notes
The commitment of White completes the in-state switcheroo between Michigan State and the Wolverines, which saw Nick Hill commit to the Spartans. Coming into the recruiting season, Hill had been considered a strong Michigan lean, while White has serious family ties in East Lansing and was expected to end up there. However, as the recruitments got underway, White became more and more interested in the Wolverines. Throughout the spring, he started leaning towards Michigan, and enjoyed his visit for Michigan's summer camp. Last week, he announced a press conference for today, at which he made his college choice. He selected Michigan, and becomes the Wolverines' 16th commit in the class.
Player Notes
Scout is a bit higher on Austin than Rivals, ranking him as a 4-star prospect and the #17 RB in the class (Rivals has him at 3 stars and #32). He has good vision, quick feet, and surprising abilty to catch the ball out of the backfield for a high school prospect. He's an upright runner who needs to get lower to avoid injury, though adding bulk in the weight room will help in that regard as well. White may not be coming in strictly as a running back, however. This summer, he played in the defensive backfield in 7-on-7 competitions, where he reportedly impressed. If he doesn't foresee immediate playing time on offense, he may opt to try his hand on the other side of the ball.
Video

Posted under Football, Recruiting