Since I haven't had the chance yet, I'll take this opportunity to promote the MGoBlog/VB tailgate before the spring game that Brian mentioned yesterday. The details are: 9AM near the bus stop outside Crisler Saturday morning. For more info, check out the planning thread on MGoBoard.
The 2010 Recruiting Board can be found here. There's still plenty more info to get out this week, so Friday's Spring Game Edition of the Recruiting Update may include some non-weekend-related items as well.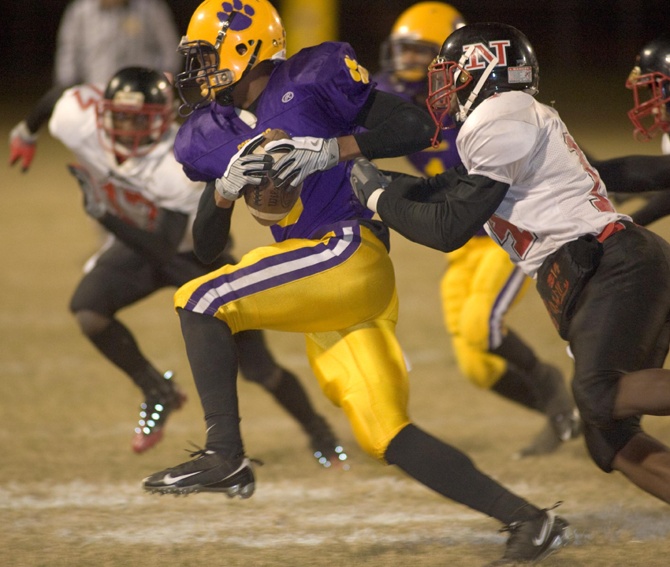 As has been widely speculated, Michigan leads for LA QB Munchie LeGaux. With Blake Sims committing to Alabama, LeGaux might be the best option for a 2nd QB in the class at this time. LeGaux photo by Matthew Hinton (not that Matt Hinton?) of the Times-Picayune.
The author of this article seems to think that TX RB Lache Seastrunk has narrowed his list of choices to just 4 schools: Texas, Oklahoma, Auburn, and LSU. I'm skeptical for several reasons: 1) That's the first I've heard of that, and 2) That article was so poorly written as to reduce its credibility to near-zero levels. Take it with a grain of salt.
OH RB Erick Howard has stated in no uncertain terms that he would like to play for Ohio State. This would appear to mean bad things for Michigan's chances. Of course, he doesn't boast an impressive offer list yet (despite being Ohio's Mr. Football last year), and in the past, Michigan has made a living off Ohio players that didn't end up with Buckeye offers. If he is deemed to be worthy of a Michigan offer, that tradition may continue.
To piggyback off the previous note, Michigan may be trying to develop something of a pipeline throughout the various high shcools of Canton, Ohio (even traditional Michigan feeder school Massillon Washington is in a Canton suburb). Jerald Robinson (Canton South) is already committed for the class of 2009, Jewone Snow (McKinley) is the son of former Michigan great Garland Rivers, and Howard is a prospect. This area is a strong one for Ohio high school football, and if we've seen one definite trend in this staff's recruiting, it's trying to develop pipelines (Pahokee, Apopka, Cass Tech, Liberty). And recruiting little guys. If we've seen two definite trends in this staff's…
Fluff on FL WRs DeJoshua Johnson and Fred Pickett. Johnson will likely play QB for Pahokee this year, but may play WR alongside Pickett.
Buried in an article on Jay Cutler is the following (not particularly enlightening) information on FL OL Brent Benedict:
As Bolles School offensive tackle Brent Benedict, one of the nation's top prospects, spent his spring break last week making unofficial visits to six out-of-state schools, Florida coach Urban Meyer sent him a bunch of text messages. On Friday, while competing as a shot-putter at the Florida Relays, Benedict planned to attend a Gators practice and have dinner with Meyer. Memo to Tennessee coach Lane Kiffin: Such contact is legal as long as Benedict remains on UF's campus. …
As of now, it doesn't sound like he's strongly considering Michigan, particularly because his big visit swing didn't include any schools in the North, much less a trip to Ann Arbor.
A few notes on MN OL Seantrel Henderson. He has his trips in mind (remember, he said Michigan was likely to be his only lock for an official visit at this time). A local Minneapolis columnist said Seantrel's ready to start taking visits, obviously ignoring the fact that he's already been to Michigan and Michigan State.
NC OL Robert Crisp has committed to NC State, and he's been removed from the board.
AL DE Martaze Jackson has been nominated to participate in the Army All-American game. This is a phase of the process of which I had been previously unaware:
Of the 400 nominees, 90 will ultimately be selected and invited to this year's 10th anniversary game. 
OH LB Jordan Hicks has been selected to play in the ESPNU/Under Armour All American Game. He reports a Michigan offer, and will whittle his list of possibilities down to 10 by his spring break, which one must assume is coming right up.
MI LB Austin Gray, who was considered to be a possible Michigan lean if he ever got an offer, took an unofficial visit to Iowa last weekend and committed. I'll leave him on the board for now, because if Michigan ever decides to offer, they might be able to hop back into the race for him.
The Wolverines have tendered an offer for MD LB Troy Gloster (info in header). Gloster hails for Good Counsel Academy, home of 2009 prospect Jelani Jenkins, as well as 2010 Stanford decommit CB Louis Young.
LA S Ronnie Vinson doesn't have one school atop his list, but has 6 favorites that stand out among his other offers. USC, UCLA, Alabama, Michigan, LSU, and Ole Miss are the schools he's focusing on most at this point (info in header).
PA CB Cullen Christian, who has long held the Wolverines as his favorite, is now putting a number to that assumption: He says there's an 85% chance he ends up playing for Rich Rodriguez (info in header).
Posted under Football