A series exploring the commitments (and subsequent decommitments) of Michigan's lost members of the class of 2009.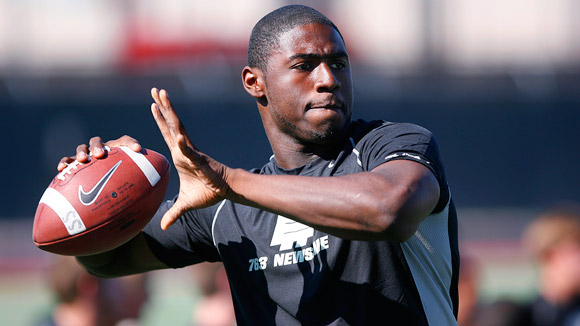 The Commitment
Kevin Newsome was, by all accounts, the Michigan coaching staff's #1 quarterback target in the class of 2009 (after Russell Shepard's very early commitment to LSU, of course). A track star in the hurdles, and a pretty good passer (though raw) as a quarterback, he had the game of Pat White, just ratcheted up a couple levels. Michigan fans paid very close attention to Newsome from the beginning, and things looked very encouraging when he visited for the Spring Game, even though it was a rain-soaked affair at Saline High School. Shortly after returning home to Virginia, Newsome gave off signs that he was a heavy Michigan lean. The tipping point came when he made the Eiffel 65 song "Blue" (lyrics: "I'm blue") his background track on MySpace (sadly, I'm not kidding). Within a couple weeks, he committed to Michigan, giving Rich Rodriguez his first big-time QB commit.
The Decommitment
Though he initially said he was a solid commitment to Michigan, and even helped the Wolverine recruiting effort by calling other prospects, Newsome quickly started seeming a little soft in his pledge to Michigan during the summer. He stopped talking to other recruits as much, and even told some recruiting sites he was considering taking visit to other schools. Michigan fans were getting worked up over the idea of losing Newsome even before he announced he was transferring high schools for his senior season, and heading to Hargrave Military School to play on their post-grad team. They perhaps tried to talk themselves into being comforted by this fact, as Hargrave has a reputation for encouraging committed recruits to remain with their current schools. However, just a week before the 2008 season began, Newsome rescinded his pledge to Michigan and re-opened his recruitment.
The Impact
When Newsome decommitted, many Michigan fans simply thought "Tate Forcier, come on down!" However, Newsome was still a loss for Michigan (I still think what could have been if Newsome and Forcier had been the two commits, but I digress), as he has very good physical attributes for the position in the Rich Rodriguez system. Though raw as a passer, he has good size and a high ceiling, though his floor could be very low. Michigan ended up replacing Newsome with Forcier, so the dropoff from that position is not too bad overall, especially considering Forcier, with all his coaching, is likely more ready to compete right away. However, down the road, Newsome could be the best of the bunch – though he'll do it for Penn State now.
Posted under Football, Recruiting