Another weekend, another sweep for the men's Lacrosse team. The going wasn't quite so easy this time though, as rival (and national #4-ranked team) BYU came into Oosterbaan for the Saturday contest.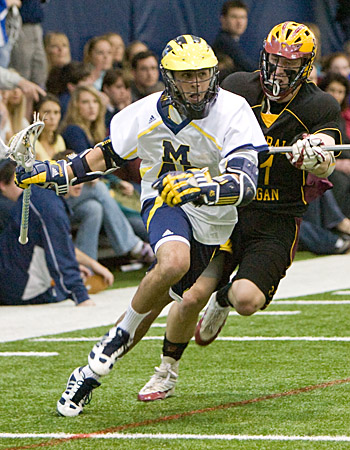 Central Michigan
 The Chippewas put up more of a fight than Michigan's former CCLA opponent to date, Eastern (whom Michigan defeated 33-8), but still couldn't hang with the clearly-superior Wolverines, who downed them by a count of 21-4. The Wolverines' fast start was key to their dominance of the game, as they took a commanding 5-0 lead within the first 6 minutes of the contest. Anthony Hrsovsky opened the scoring, then Trevor Yealy and Kevin Zorovich each scored back-to-back goals. The Chippewas didn't manage to get on the board until just before halftime, but they already trailed 10-0 by that point. Anthony Hrsovsky (4), Trevor Yealy, Kevin Zorovich, Wes McGowan, and Josh Ein all netted hat tricks in the beatdown. Faceoff specialist David Reinhard won 12 of his 13 opportunities, and Andrew Fowler and Mark Stone split time in the net for Michigan.
Brigham Young
For those who don't follow Michigan Men's Lacrosse, having a team from Utah as one of their biggest rivals may seem a bit odd. However, take into account the number of games they've played in recent years (and the  potential impact of those games):
Michigan v. BYU Since 2001
Date
Game
Event
Final Score
Notes
4-7-01
#3 BYU @ #2 Michigan
Reg. Season
M 10-5 BYU
Cougars defending national champs.
3-2-02
#4 Michigan @ #3 BYU
Reg. Season
BYU 12-9 M
Michigan's first televised game.
3-14-03
#4 BYU @ #6 Michigan
Reg. Season
M 10-7 BYU
First upset in the recent series.
5-8-03
#3 Michigan v. #5 BYU
USLIA Tournament
BYU 12-8 M
Cougars get revenge in national tournament.
2-28-04
#5 Michigan v. #3 BYU
Reg. Season (Orlando, FL)
BYU 8-6 M
Neutral-site matchup goes to the Cougars.
3-5-05
#5 Michigan @ #3 BYU
Reg. Season
BYU 7-6 M
Michigan drops an away match to BYU
2-25-06
#4 Michigan v. #5 BYU
Reg. Season (La Jolla, CA)
BYU 11-10 M
The Cougars take another neutral-site contest.
5-10-06
#4 Michigan v. #5 BYU
USL-MDIA Tournament
BYU 14-9 M
BYU knocks Michigan out in the national quarterfinal.
4-14-07
#1 BYU @ #5 Michigan
Reg. Season
BYU 15-9 M
Wolverines can't win one at home.
3-1-08
#7 Michigan @ #1 BYU
Reg. Season
M 12-9 BYU
On the road, Michigan breaks streak of 6 straight BYU wins.
5-16-08
#1 Michigan v. #4 BYU
MCLA Tournament
M 11-7 BYU
Michigan wins semifinal on their way to the national championship.
So, it's pretty clear that there is legitimate material for a true rivalry here. With Michigan's 28-game win streak on the line, the stakes were even higher. In a game that ended 14-11, however, it never seemed like the Wolverines were in serious danger of losing the contest.
Svet Tintchev and Matt Asperheim scored Michigan's 1st two goals within 12 seconds of each other 3.5 minutes into the game, and the Cougars were playing catch-up the entire contest. When BYU's Justin Hier scored the next goal, it was the closest the Cougars would ever get to Michigan, as the Wolverines rattled off two straight before BYU would put another goal on the board. Michigan's eventual game-winner would come with 2 minutes still left in the 3rd quarter, as Kevin Zorovich put the Wolverines up 12-6 (while completing his hat trick). Sophomore Andrew Fowler played the whole game in net for Michigan, making 11 saves. Tyler Yealy (4), Kevin Zorovich, and Anthony Hrsovsky all netted hat tricks.
One of the highlights of the game, oddly enough for a contest one by Michigan, was a BYU goal. The Cougars' Elliott Grow scored on Fowler by shooting behind his own head, surprising not only the keeper, but just about everyone in Oosterbaan Fieldhouse.
Up Next
The home schedule comes to an end next weekend, as #7 Minnesota Duluth and #8 Colorado State come to Ann Arbor to make an attempt at taking down #1. Friday's game is at 8:00 PM against the Bulldogs, and Saturday's contest against the Rams is at 7:00 PM. Both games take place in Oosterbaan Fieldhouse, and tickets are $3 for students, $6 for non-students.
Ein Photo by Martin Vloet.
Posted under Other Sports
Tags: brigham young, central michigan, lacrosse, postview

1 Comment so far
Trackbacks
More Blog Post