Don't forget to check out all the information over time on the 2010 Recruiting Board.
Moved to Committed:
MI QB Devin Gardner. WOOOOO! The somewhat complicated story seems to be that he's committed to Michigan, but won't officially tell the media until his basketball season ends. So, he is committed, but the reason Rivals doesn't list him on the commit list is his reluctance to give them an interview prior to the end of his hoops season.
OH Ath/WR DJ Williamson. More WOOOO!
OH LB Antonio Kinard. WOOOO round 3!
Removed:
FL RB Tiger Powell. Committed to South Florida.
TX CB Adrian White. Committed to Texas.
TX DE Reggie Wilson has set a decision timeline for himself: He'll commit to a school before the end of the month. His "Final 3" consists of Texas, Oklahoma, and TCU, but I'll leave him on the board a little longer, until there's confirmation from another source (not that I'm doubting the credibility of BON, but best to hear it from the horse's mouth).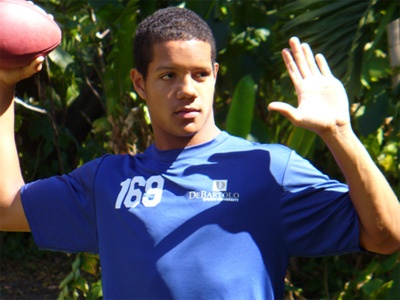 FL QB Stephen Morris, one of the stars of Michigan's 2008 summer camp, is making a name for himself. At least, there's definitely a PR firm pumping out releases about him. Morris has also started to draw the attention of a familiar face to Michigan fans:
"I just received a couple of letters from Coach Loeffler, who is the new QB coach at Florida, and he really wants me to come up and visit. It's funny how things turn out, he was the coach who first convinced me to come up to the University of Michigan for their football camp a couple of years ago – and we had a great time there."
Funny how things turn out, indeed. From the sounds of it, he was more interested in Michigan than in Loeffler after his visit to Ann Arbor, but a coach with whom he's established a relationship should certainly be considered a threat. There's also relevant recruiting information in the article:
His list of top schools includes: (in alphabetical order) Alabama, Michigan, Ohio State, South Carolina and Vanderbilt.
The Florida attention is likely to shake that list up a bit.
TX LB Caleb Lavey is the #5 linebacker in the Dallas/Fort Worth area for the class of 2010. His measurables aren't what's keeping him that low, however: It's the fact that he plays in a lower division against lesser competition.
Scouting report on MI RB Austin White. The "unsubstantiated rumor" that he committed to Michigan on Junior Day doesn't exist, even in unsubstantiated form, anywhere other than this site to my knowledge. Let me know if I'm mistaken.
It might be in the best interest of FL LB Jeff Luc to get out of Miami, according to his brother. For the record, said brother went to Florida State, so this isn't exactly an advocate for going to a school like Michigan.
FL RB Corvin Lamb has said it in no uncertain terms: he wants to go to Florida. I wouldn't be surprised if he gave the Gators a commitment before the spring is over.
Ohio State and Michigan State, in that order, lead for OH DE Darryl Baldwin. Michigan was on him early in the process, so expect them to turn up the heat if they really want him.
For those who fear that FL S Marvin Robinson is no longer likely to end up in Ann Arbor, take heart: he recently named the Wolverines his #1 school. An early commitment still doesn't look likely, but at least the Wolverines aren't playing catch-up.
Michigan has offered OH OL Skyler Schofner, and also FL DE BJ Butler.
Posted under Football, Recruiting
Tags: 2010, adrian white, antonio kinard, austin white, bj butler, caleb lavey, corvin lamb, darryl baldwin, devin gardner, dj williamson, jeff luc, marvin robinson, reggie wilson, skyler schofner, stephen morris, tiger powell

6 Comments so far
More Blog Post