According to Rivals and Scout, Devin Gardner, a dual-threat quarterback from the class of 2010, has pledged his word to become a Michigan Wolverine. Gardner hails from Inkster High School, and measures 6-4, 200, with a 4.50 second 40-yard dash.
Recruiting Notes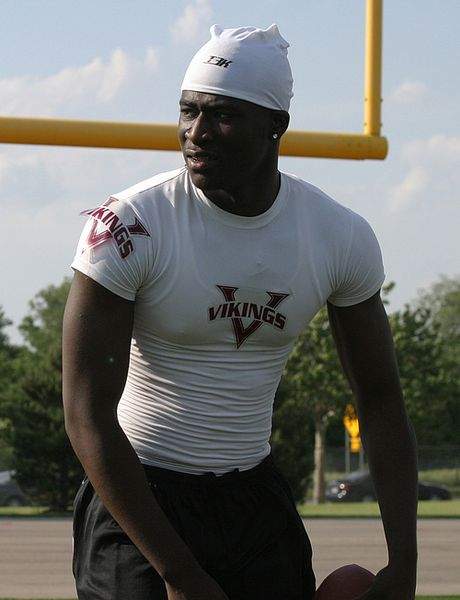 Gardner appeared on Michigan fans' radar in the summer of 2008, when he transferred from UD Jesuit to Inkster. He performed at Michigan's 2008 summer camp as both a quarterback and a wide receiver. The staff liked him at both positions, and offered him as a QB shortly after the Rich Rodriguez 7-on-7 competition. Though Gardner had grown up a Buckeyes fan, he remained open to any school that gave him interest. Give them interest he did, as schools from LSU to Michigan to West Virginia mailed the dual-threat QB official offers. When the Buckeyes told him he wasn't their top choice in January, he abruptly removed Ohio State from his list, and many speculated that Michigan would take over the top spot. Gardner made his meta-announcement early last week shortly before he took an unofficial to Michigan's Day.  his actual announcement came today, when he picked out the maize-and-blue hat.
Player Notes
Gardner is a big mobile QB in the Vince Young/Terrelle Pryor mold. In fact, he is often described as "The (Vince Young OR Terrelle Pryor) of the Class of 2010." He runs like a deer, and has exceptionally quick feet, which he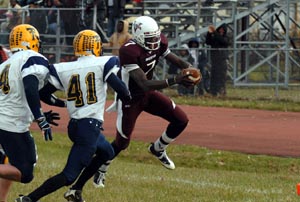 uses to escape pursuers. His throwing mechanics need a lot of work, as he has a low/sidearm release, much like that of Vince Young. Through all  his current shortcomings as a player, it is important to remember that he is only a high school Junior, and it will be at least a year and a half before he hits FieldTurf: he has plenty of time to work on them (and poor mechanics didn't seem to hurt Vince Young that much, either). On top of the tangible skills that can be quantified or easily observed, many talent evaluators have branded him with having that indescribable "it factor." In his junior season, Devin threw for 1,886 yards, 28 touchdowns (several of them to class of '09 Michigan commit Cameron Gordon), and 7 interceptions. He ran for 1,401 yards and 22 touchdowns. As previously mentioned, he is a bit raw, but will receive plenty of coaching when he gets to Ann Arbor. Gardner will likely be the more highly-rated quarterback in Michigan's class of 2010, so he will likely hit the field as a freshman.
Video
Hey! A Varsity Blue original!
Posted under Football, Recruiting
Tags: 2010, commitments, devin gardner

15 Comments so far
Trackbacks
More Blog Post